For millions, summer means heading to the beach to relax and top up that tan. Bored with that? Then why not try your hand at foraging for shellfish, says Martine Nouet.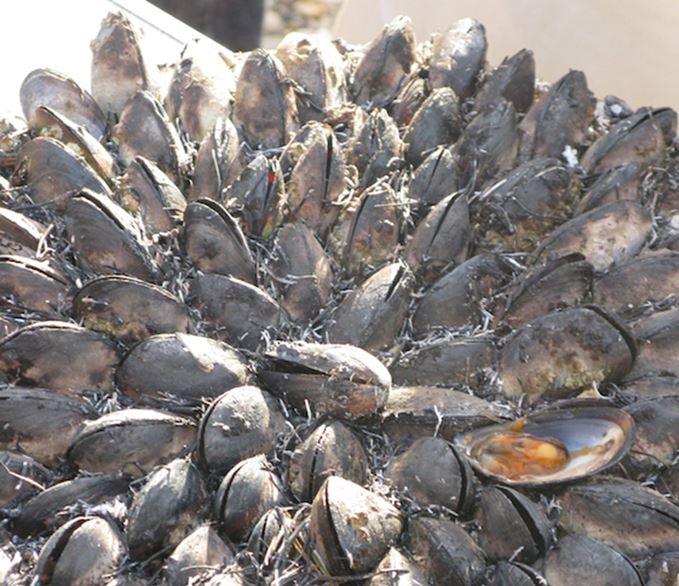 Almost every holidaymaker will spend at least some time by the sea this summer. Beaches are the most sought-after destinations to get some much-needed rest and enjoy a little sunbathing. But not everyone dreams of spreading a bath towel amid the crowds and roasting for hours until they look like a lobster. Others, at the thought of lobsters, immediately connect to 'foraging'. Their motto, to paraphrase a well-known one, would rather be 'sun, sea and – shellfish'.
My memories of foraging take me back to my childhood. All through summer, the family would take a picnic to the beach and, with my father, we would spend hours, scrutinising the pool with our shrimping nets, raking the sand to gather cockles or picking mussels on the rocks. The proud jubilation, when we ate the produce of our efforts at dinner!
There is an exciting tension in scanning the shore in quest of fresh food, something which maybe unconsciously links us to our ancestors, the cavemen to whom foraging was a matter of survival. Yes, I was a kind of Robinson Crusoe when I grabbed a velvet crab or a handful of cockles. And things have not changed much, except that now I add a flask of whisky to my survival kit!
The first objection voiced against foraging is the fear of being poisoned by seafood. 'How can I know it is safe to pick shellfish on that beach where I will spend my holidays?' Well, it is useful to observe a few principles and get the best information on your foraging spot. The locals will give you precious advice. Here are a few points to check out beforehand:
Make sure the water is clean (ie there is no sewage nearby).
Pick only the shellfish you know. If you look for mussels, be sure you are in a zone where the beds are covered at high tide.
Don't forage during a heatwave. Shellfish are heat-sensitive.
Don't leave your harvest out in the sun. Process it as soon as you get home.
Mussels and cockles must be eaten fresh, so don't keep them for the next day.
You must have a good knowledge of tide and the sands, and what they look like (beware of quicksands). For this, you need local advice.
Have a look at your watch and be sure to leave the place before the tide comes in. There are numerous episodes of foragers getting stranded.
The other concern to bear in mind when you forage is sustainability. Don't harvest more than you can eat. A kilo of mussels per person for a main dish is sufficient – and half that amount for a starter. Also, only choose the fair-sized ones (3-4cm). If you find a big bunch of mussels tied to the rocks, don't take them all; leave at least half in their habitat.
MUSSELS
Mussels are attached to the rocks by a very strong filament (called a byssus), and are often found under seaweed. Just cut the filament with a knife or twist it.
When you prepare them, clean them and cut the remaining byssus, discard the damaged ones or the ones which are not firmly closed. After you have cooked them, don't eat the ones which are not open.
How to eat them? The classic recipe is Moules Marinière: steam them for a few minutes with parsley, butter, white wine and shallots. Some will add garlic, although I personally think it is heresy. You can add cream too, that's my Norman way. With curry, they become a Mouclade.
Now if you cook them in the wild – which is the best way – here is a wonderful recipe: Mussels cooked under pine needles. You place your mussels on a bed of pebbles, making a circle (don't stack them up, just place them next to one another). You cover them with dry pine needles and light a match. That's all. They cook in a flash and have this wonderful, resiny flavour. What a delight!

Forage and flame: River Cottage's Gill Meller shows the way (Mark Unsworth/Islaystudios)
Now, a hint of whisky? Once cooked, you take the top shell off and spray the whisky on the warm mussel. I would recommend a young and lightly or medium peated malt like Bowmore Small Batch or Caol Ila Moch. And of course you eat with your fingers! That's the pleasure of going wild.
COCKLES
Cockles are easy to find on flat, sandy beds. They stay below the surface and are easily picked with a rake (just an ordinary garden rake will do). Again, only pick what you will eat.
It is important to rinse them thoroughly before cooking as they contain sand. I let them soak for 30 minutes in tepid water containing 2tbsp of vinegar. Then I rinse them two or three times.
The best way to enjoy cockles is to steam them for three minutes, adding a good knob of butter and pepper. A spoonful of a refreshing Bourbon cask-matured whisky – like Glenrothes Alba Reserve – will release vanilla flavours in the juice. Or if you want big sensations, pair them with Kilchoman Machir Bay (explosion in the mouth guaranteed).
Want to know more?
John Wright from River Cottage is an expert forager, and has produced several books on the subject. River Cottage Handbook No. 5, Edible Seashore includes recipes. A must. (Bloomsbury 2009, £14.99).