Autumn is the season where whisky 'effortlessly shines' – both neat, as a remedy for the elements, and in a wide range of warming and flavoursome cocktails. Here's Ryan Chetiyawardana, aka Mr Lyan, with his seasonal whisky drinks guide.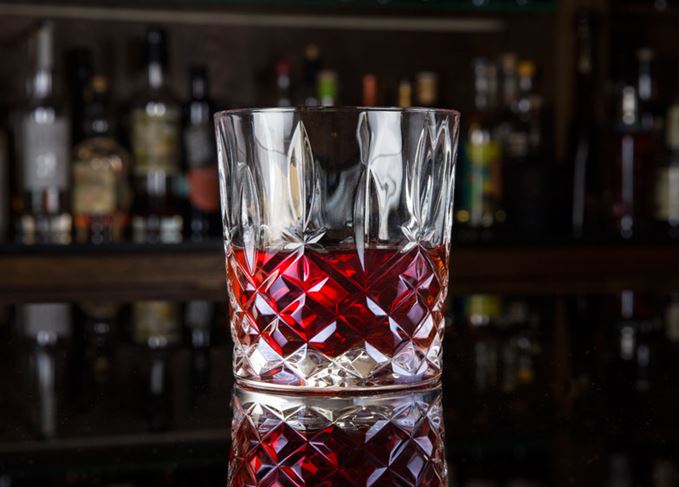 As the leaves turn (do we get enough of a summer in the UK to warrant calling it a change in season?), there rapidly develops a very different feel about town. My favourite way to reflect this is to change what I eat and drink (there's no choice in changing what you wear – the wind and chill come round fast) – and playing up to the change of atmosphere that autumn brings is one of my favourites.
This is where whisky effortlessly shines. Many are instinctively drawn to the warm, golden flavours of a Scotch to battle the cold, but even the colours of the changing flora seem to prompt a move from lighter blends and Bourbon casks to bigger spice and Sherry, while a whiff of smoke just seems to pre-empt the coming bonfires like a warm blanket.
Although I still reach for a whisky in spring and summer, there's something about getting indoors from the cold that makes reaching for a dram so fitting; and, although a neat whisky is a welcome remedy for the elements, there are a few cocktails that help reflect the season perfectly.
One of these drinks came about quite unexpectedly – I was tasting some vintage liqueurs (as you do) and noticed the coffee spice in old crème de cacao, and a nuttiness in a crème de cassis de Bourgogne, which matched the flavours I'd enjoyed in a very-suited-to-the-season Aberfeldy 21 a few nights before.
This 'exaggeration' of some key flavours within the spirit is one of my favourite ways to make a cocktail, and drawing the blackcurrant fruitiness out from the distillery character, and the richer spice from the long ageing, seemed to create a drink that couldn't have felt more autumnal.
As it's served without ice, this Sazerac variant (recipe below) doesn't get lighter as it dilutes, but gets richer and spicier as it warms up, and this comforting weight to the drink is exactly what I crave as the cold starts to creep in.
Despite the howling wind, autumn is my favourite season, and before the true biting cold of winter kicks in, I find myself spending a good amount of time outdoors. Taking a walk around the park or trying to get out for a long ramble feels all the more rewarding in autumn, and there's a wealth of produce about that's worth celebrating.
Although wild mushrooms are amazing to pick, they require a good amount of knowledge (both in terms of not dying, and finding a way of getting them into your cocktails), and brassicas and root veg are better for your hearty dishes, but brambles are one of my favourite fruits, and best at this time of the year.
They're the ideal reward on walks about – and inhabit both our cities and our countryside – and they make a wonderful addition to a whisky cocktail. This version of a Hunter's Flask is best drunk with the slight chill brought by carrying it out and about, with the edge taken off by the gentle warmth from your pocket.
The spice from the whisky, with some zesty fruit and herb accents, fits a blustery day wrapped up in scarves and jacket, out in the elements. It conjures an apt whisky quote from Robert Bruce Lockhart:
'…but I realise that it is the nectar of the young and the strong, that it goes best with Highland air and with long tramps over hill and moor, and that it is ill-suited to the man who sits all day on an office stool'.
The final drink signals a return indoors, and a style I love making to shatter the prejudices against unusual ingredients, as well as against whisky: a cocktail from the family of 'Flips'. These drinks contain a whole egg and take on a rich texture that is comforting and delicious.
I've used a favourite dram of mine, not only because it's incredible, and not only because the smoke trails out amazingly and reveals a fruity belly, but because so many are precious with this whisky and rarely experience its full complexity and versatility. So to match with the Lagavulin 16 at its heart, I've used a couple of accents around it to create a magnificent hug of a drink.
Autumn whisky cocktails: Mr Lyan's Selection
Blackcurrant Sazerac
40ml Aberfeldy 21-year-old
5ml crème de cacao
5ml crème de cassis de Bourgogne
3 dashes coffee bitters
2 dashes absinthe
Add all to a mixing glass and stir over cubed ice. Strain into a chilled rocks glass with no ice. Twist a lemon peel over the top then discard

Rambling Flask
100ml Cardhu 12-year-old
25ml blackberry vinegar (blackberries and sliced ginger infused in cider vinegar, then reduced on the hob over a medium heat for 10 minutes)
50ml Cocchi di Torino
10ml chestnut liqueur
75ml water
3 dashes Angostura bitters
2 dashes Peychaud's bitters
Mix all, remove any particles, then pour into a clean flask.

Dunyvaig Flip
50ml Lagavulin 16-year-old
1 whole egg
1 barspoon raspberry or blackberry jam
1 barspoon yellow Chartreuse
1 barspoon sugar syrup
3 dashes Peychaud's bitters
Pinch each of salt and pepper
Add all to a shaker and shake without ice. Add cubed ice and shake hard. Double-strain into a chilled cocktail glass and garnish with a discarded orange twist.