Put down the salads and pack away the barbecue – summer is well and truly at an end, and autumn is all about slow-cooked stews, rich red meats and baked fruit desserts. Martine Nouet returns to demonstrate how to rustle up an autumnal feast – and which whiskies would make the ideal accompaniment.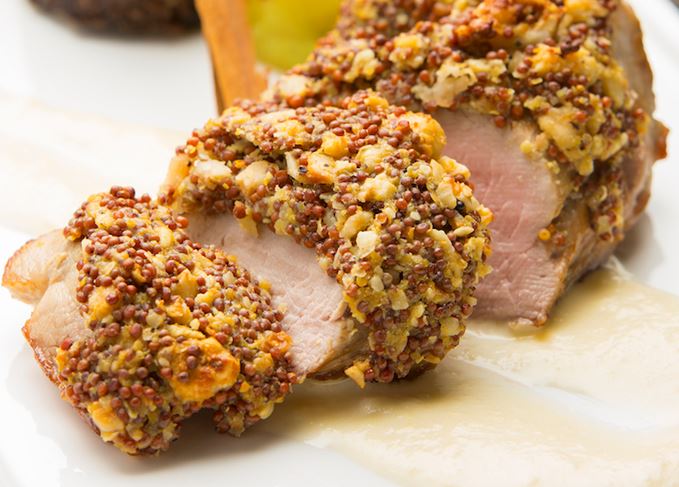 Summer is gently sliding away to let another seasonal cycle take place. We are losing daylight, the air is cooler. Trees are starting to lose their leaves, the days are shorter and the rhythm of life is slower. With a bit of luck an 'Indian summer' will try to fool us into believing that we can still enjoy outdoor activities... but soon nature will undress our surroundings to get ready for winter's sleep. Indeed, autumn is the intermediary between being awake and going to sleep. Why moan about these changes? Just enjoy the change of the seasons.
Nature is ready to return to the earth but, before drawing the curtain, it invites us to a colourful show. Nature shines in amber and golden colours – a real feast for the eyes. I often recommend that whisky lovers visit Speyside in autumn to enjoy its festival of colours. From bright gold to red copper, from tawny to crimson, these are hues your autumnal whiskies will offer.
Older and often matured in Sherry casks, whisky reveals a darker robe too – and so do the dishes. Naturally, food will also present the same shades. Autumn is the season of slow-cooked stews, rich sauces, baked fruit and dark chutneys, sometimes slightly overcooked dishes with a bitter edge, in a palette of gold and brown.
If we think of the cycle of life, no doubt autumn is the age of maturity when you have nothing more to prove. You will appreciate relaxing whiskies, preferably in the evening, at dusk when the light still hesitates between day and night.
As the temperature drops, we appreciate soups – especially with root vegetables – so abundant in October and November. Pumpkins set the tone at Hallowe'en. I personally prefer potimarron (red kuri squash). It belongs to the pumpkin family, but it is smaller and has a delicate taste of chestnut. It can be cooked as a savoury dish (soup, roasted cubes in the oven) or a sweet one (soufflé, flan).
You can also try sweet potato, parsnip and Jerusalem artichoke. Sweet flavours and creamy textures will marry well with complex and earthy whiskies.
Meat is the other winner of the season. Venison, of course, but also beef, pork and mutton. A dish such as Flemish carbonnade – a beef stew with beer and gingerbread –will simmer for two hours in the oven or on the stove, and will match a spicy Speyside or Highland over 15 years old.
Mushrooms are the natural accompaniment of meat dishes; I prefer them wild if possible. It is not so difficult to find them in markets nowadays.
Mature cheese complements mature whiskies. Comté, old Cheddar, crumbly Gouda, served with apples, grapes, a nutty butter and fresh rustic bread (sorry, I can't do biscuits) are a delight with a second-fill Sherry cask malt. I would not recommend a peated whisky with this style of cheese.
But does that mean peated whiskies should be banned from an autumnal meal? Not at all, but they need to be full-bodied. We will leave aside the young Bourbon-matured smoky Islays in preference of rich, marine, spicy, older malts with a robust backbone. Oak must frame the aromatic profile; a slightly astringent finish is a plus.
And here comes chocolate. Not milk or white chocolate, a good minimum 55% cocoa dark chocolate, which should be associated with fruit: a chocolate crème brûlée with pan-fried morello cherries, a soft chocolate cake with an orange sauce, a poire belle Hélène (stewed pears with vanilla ice cream and chocolate sauce). All these sweets will pair with double-matured malts (Sherry- and Port-finished).
Of course, autumnal fruit desserts are welcomed as well: crumbles, tarts, baked fruit with gingerbread and ice creams... They will especially match fruity Speyside malts.
As you can see, there is no reason to miss summer. Autumn has a bunch of delights to offer us.

Home-made soup: Velouté of butternut squash and coconut (photo: John Paul)

An Autumnal menu: returning from a walk in the woods
Velouté of roasted butternut squash and coconut
Filet mignon of pork with a black pudding flan and an apple sauce
Comté and mushrooms parcel
Velouté of roasted butternut squash and coconut
Cook the squash with a dash of olive oil in the oven for 35 minutes. Mix coconut milk and water, bring to the boil and add the squash. Then blend to a creamy smooth texture. Season with salt and pepper. Whip double cream and add whisky. Toast almonds in a pan. Serve the velouté with a dollop of cream and almonds.
My choice of whiskies: Benromach Peat Smoke, Glenmorangie Tùsail, Johnnie Walker Gold Label Reserve.
Filet mignon of pork with a black pudding flan and apple sauce
Mix grain mustard with spices, chopped nuts and a touch of honey. Spread the mixture on the filet mignon. Cook in the oven with thinly sliced shallots and a glass of water for 60 minutes. Meanwhile, make the black pudding flans: mix together crumbled oatcakes, grated apples, beaten eggs, diced black pudding and some whisky. Pour into greased ramekins and cook for 25 minutes.
When the pork is cooked, let it rest. Strain the cooking juice and warm it. Reduce the Sherry vinegar over a warm heat; add a puréed apple, the cooking juice and double cream. Serve the pork medallions with the sauce and black pudding flans.
My choice of whiskies: Glen Garioch 12 Year Old, Knockando 12 Year Old, Longmorn 16 Year Old.

Pass the parcel: A simple yet delicious Comté and mushroom parcel (photo: John Paul)

Comté and mushroom parcel
Sauté button mushrooms with butter, olive oil and spices (particularly ground coriander). Brush filo sheets with melted butter. Cut the Comté cheese into slices.
Place the cheese and a tablespoon of mushrooms on the filo sheet. Roll it into a parcel. Bake for five to eight minutes in a hot oven. Serve on a bed of salad.
My choice of whiskies: Aberlour 18 Year Old, Glengoyne 18 Year Old, The Spice Tree (Compass Box).
Other suggestions
All slow-cooked meats or venison with a rich sauce (Port, mushrooms, truffle)
Pumpkin soup with haddock
Salad of smoked duck breast with oranges
Chocolate cake or crème brûlée
Apple and pear crumble
Tomorrow: Ryan Chetiyawardana shows how to add an autumnal twist to your cocktails.
Did you see?: Dave Broom shares some of his favourite whiskies to sip in autumn.