From whisky-cured gravlax to distilleries with their own fishing spots, salmon and whisky have lots in common – both on and off the table, finds Lucy Britner.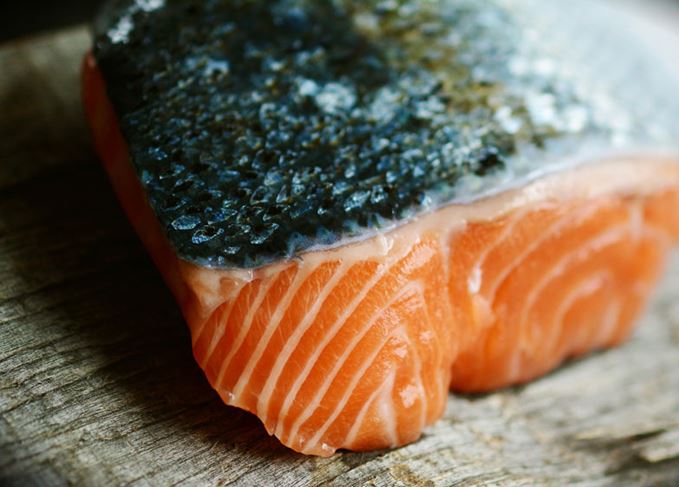 'I have dreamt of catching a salmon since I was a lad,' Bob Mortimer tells fellow comedian Paul Whitehouse in the latest series of Mortimer & Whitehouse: Gone Fishing. The pair take to Scotland's longest river, the Tay, to try their hand at landing the so-called 'king of fish'.
Although Mortimer sees flashes of silver as salmon jump out of the river, the fish evades capture as their guide tells them that they are known as the 'fish of 10,000 casts'.
Though they might not be easy to catch, Atlantic Salmon are synonymous with Scotland. According to the British Ecological Society, the fish live in the country's rivers as juveniles before making their way out to sea, to 'undertake long migrations to their oceanic feeding grounds in the North Atlantic'. As adults they return to the rivers where they grew up, to spawn and begin the next generation of Atlantic Salmon.
The fishing seasons are governed by this return to breed and can vary from river to river, but they are usually over in November and start up again around February.
Mortimer and Whitehouse's river, the Tay, is one of what salmon fishing expert Ian Gordon calls 'the big four', along with the Tweed, the Dee and, of course, the Spey.
Anyone who has visited Speyside will no doubt have heard the whispers over a few drams about how much it can cost to fish this beautiful river.
Though Gordon says it can be as much as £350 per rod per day, he says that figure 'paints the wrong picture' of the Spey, adding that the average price is 'a little over £100', with low season prices around the £40 mark.

Easter Elchies: The Macallan Estate has one of the most beautiful beats on the River Spey

There are some famous 'beats' (stretches of river where fishing rights belong to a certain estate or company) on the Spey too, that are intrinsically linked to the Scotch whisky industry. Macallan, for example, has its own beat, which Gordon describes as 'beautiful'. He also uses another fishing word, adding that the 'beat has a great ghillie' – an attendant who usually works for an estate and is not only a seasoned angler and local guide but also, Gordon says, a good host. 'There's a very social side to fishing and that is important,' he says, taking a moment out of our interview to offer some casting advice to a member of his party. 'People tend to come up and fish in groups of friends.'
Groups, he adds, that usually enjoy a nip of whisky. And when it comes to Gordon's own hip flask, he says: 'My favourite is Macallan 18 Year Old Sherry Oak, but unlike the fishing, it's getting more expensive!'
Like the whisky industry, Gordon describes salmon fishing as the lifeblood of many communities. The expert is also very vocal about the need to protect a declining salmon population so that fishing can continue to be an asset to Scotland's economy.
He says there are many reasons why the salmon population is declining, including changes in land use, thriving predators such as the goosander duck and grey seal and, of course, global warming. Scotland has a catch-and-release policy but Gordon says this will only 'buy us time'.
Even though Gordon's biggest salmon catch didn't happen in Scotland (it was a 31-pounder from the River Alta in Norway), he maintains that 'there is no better place than Scotland' for salmon fishing, highlighting the infrastructure and hospitality the country offers. 'We just need to sort out looking after the fish,' he finishes.

Whisky wash: Ghillie Basan cures her gravlax in Cognac before serving with a dram of Glenlivet Captain's Reserve

Pairing salmon with whisky
When it comes to eating salmon, Scotland is home to hundreds of fish farms and according to the Food & Drink Federation, salmon was the UK's top food export in the first three months of 2019, with a value of £59.9m – second only to whisky.
Scotland-based food and travel writer Ghillie Basan in her book Spirit & Spice, offers some advice for both curing salmon and pairing the cured fish with whisky.
'If I am pairing food with a particular whisky, I use that bottle for the curing,' she says. 'Or I might use the spirit of the cask that the whisky has matured in, such as Sherry, Bourbon, rum or Cognac.' Basan gives the example of The Glenlivet Captain's Reserve, which was finished in ex-Cognac casks. She created sushi-style Cognac-cured gravlax to pair with the expression.
Meanwhile, Diageo's global Scotch whisky master Ewan Gunn looks to smoke for his perfect pairing – in both the salmon and the whisky. His ideal match for smoked salmon is Caol Ila 12 Year Old.
'The sweet smoke and delicate citrus notes in Caol Ila 12 cut through the texture of smoked salmon beautifully, whilst the coastal notes of the salmon accentuate the sweetness and the dry smoke really nicely,' he says. 'Each side of this pairing accentuates and shifts the tastes and textures of the other.'
For some distillers, the attraction of eating salmon far outweighs the appeal of trying to catch it: 'I have the patience to wait for whisky to mature but I don't have the patience to wait for a fish to bite,' says Glen Moray's out-going distillery manager Graham Coull.
Though he's not a keen angler, he does get requests on a regular basis from people wanting oak staves to use in order to smoke salmon.
'Sometimes I will receive a sample of the end product and it is wonderful,' he adds. 'I would say there is an additional caramelised sweetness due the whisky spirit being present in the wood. It adds another layer of flavour to the traditional oak smoke.'
From the chilly river waters that provide the source for many a distillery, to the oak staves used for smoking salmon and the whiskies that sit alongside fish dishes, whisky and salmon are a natural pair – just like Mortimer and Whitehouse.