Daniel Szor is the founder and CEO of Cotswolds distillery, which opened its doors in the English countryside in 2014. The New Yorker tells Matt Evans about Cotswolds' manual approach, the whisky myths he loathes and his long-term plans to use a series of unconventional casks.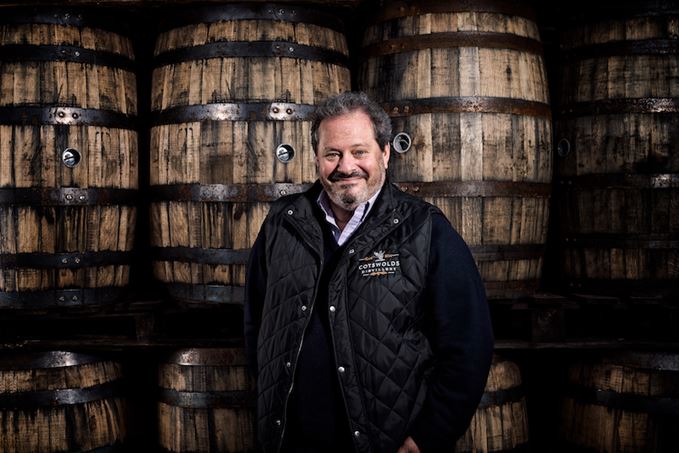 'If you're buying whisky to drink, whether you like it or not is the only metric that matters. I was never very good at collecting. A closed bottle is a very sad thing.
'My background in whisky dates back nearly 20 years, but most of that was as a self-affirmed whisky geek. It all started around 2000: I was living in Paris and trying lots of different wines, as Americans tend to do when they move to France, when I got invited to a Scotch Malt Whisky Society event and I fell in love with single malt. I began going off to Scotland with a friend once a year; we'd drive around visiting distilleries and that's how I started getting into whisky.
'One day, in the summer of 2012, I was looking out of the window of our old farmhouse in the Cotswolds at my neighbour's field, which was entirely planted in spring barley and just musing "why hasn't anyone made whisky here?" The Cotswolds has every bit as much romance and history as the most beautiful parts of the Highlands or Lowlands, just in a very different way.
'It's less dramatic. You don't have waves and high peaks and cliff faces, but you do have this gently beautiful, rolling landscape, like an impressionist's painting. There's a very good reason to craft a whisky that feels like it's come from this part of the world.
'There were space constraints and financial constraints to work around when we were setting up the distillery, but we started with what we had, when we had it. Luckily we had two amazing mentors. On one hand we had Harry Coburn, who used to be the distillery manager of Bowmore, and on the other Dr Jim Swan, who was our flavour guru. [Swan] knew both the flavour profile we were looking for and the challenges that come with starting a distillery.

Group effort: Cotswolds distillery's visitor centre was crowdfunded by benevolent fans

'In the early days of the distillery all our gin was bottled by volunteers from the local community. We quickly got a little too big to be using that kind of labour pool, but we now employ close to 50 people and most of them are from no more than 10 miles away. It feels like one of whisky's little island communities.
'We're particularly proud of our distillers. None of them have had previous experience in distillation but they're all making a truly world-class whisky. Our process is similar to the way whisky was made in Scotland 50 years ago, so we don't use computers and we manage the stills by hand with a big iron valve. We've got young people in their 20s making award-winning whisky by playing the stills like instruments, so we're very proud of that.
'We have a series of "core" casks consisting of first-fill Bourbon, Sherry and STR casks (shaved, toasted and recharred). However, we're also filling an increasing number of peated quarter casks, sourced from various producers of peated whisky. It started as a bit of fun with one 125-litre cask, but we found the result to be incredibly wonderful, as our unpeated spirit takes on this lovely little shade of smoke. That's become a core part of our wood programme and we're going to be releasing our first peated cask bottling this October.
'The final piece of our cask puzzle is what I refer to as "specials". These could be Port, they could be Madeira, rum, Calvados, Pineau des Charentes… anything we could get our hands on. Some of our whisky will undergo full term maturation in those casks. The idea is to have our full core range released by 2020, and from 2021 we'll start releasing a couple of limited edition bottlings from these casks each year.

Maturing spirit: Cotswolds is ageing its whisky in a variety of different casks, from ex-Bourbon to wine

'We crowdfunded our new visitor centre, but we don't really see a difference between crowdfunding and our direct investors. What crowdfunding has allowed us to do is extend that offer beyond our Cotswolds crowd. Whether crowdfunded or direct, people come to us with a slightly benevolent belief in the project and the patience required to invest in a whisky distillery. Our crowdfunders and our other investors all share one thing: they're all passionate about the work we do, the spirits that we make and they're in it for the long haul.
'I'm on the record as being rather disapproving of some of the marketing myths used for many years. The myth of the water source having an effect on flavour drives me crazy, all that stuff about the wee burn flowing into the distillery. Having clean and soft water is preferable for the whisky-making business, but there are so many flavours affecting whisky. To tell consumers that it's all about the water is ridiculous and a little baseless.
'Relying on age as a predictor of quality is another one. We don't have age working in our favour, but we're making some amazing whiskies. It almost leads one to say 'they're very good for their age' but that plays right into the game. It implies it's not going to be any good until it's older, which is not the case. You can make an excellent three-year-old whisky.
'I haven't had many hobbies in the last five years, but we're lucky enough to live in a beautiful part of the world. You don't have to go very far to take a lovely walk through the fields and gorgeous little villages. Wherever my travels take me, I'm always happy to get home to the Cotswolds.'