In 2018 Kyle Jamieson co-founded a Leith pub dedicated to serving locally-sourced Scottish food and drink, especially whisky. He tells Matt Evans why shopping local makes a difference, and why sorting whisky by flavour, rather than region, is a game-changer.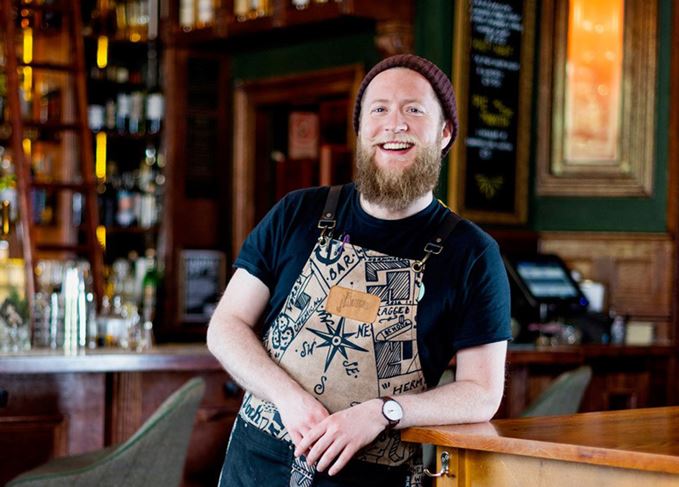 'When you're growing up, you think "whisky's just what your dad or your grandad drinks", but once you start developing your own palate, it's like seeing yourself grow up. I've seen people's perceptions really changing with more whisky bars that buck the classic "old man pub" idea, bars filled with all ages and different people. We've even had whisky Highballs requested by 18-year-olds, which is a relatively new phenomenon. The whisky Highball is going to be huge.
'My career started at my local pub in Edinburgh when I was about 18. After a few years I went to Australia, working in Melbourne, before coming back to Edinburgh and working at bars like Treacle, the Bon Vivant and Devil's Advocate. After that, I did some brand ambassador work for Dewar's and Bacardi, worked with Iain McPherson at Panda & Sons and together we opened Nauticus last autumn.
'Gatekeeping over how to drink your whisky is just Scottish stubbornness. "You can't do this, you can't do that, you have to drink whisky by itself or with a splash of water..." The way I look at it is if you want to buy a whisky, you can drink it how you like. That's what I teach all my staff and that's the way I was taught. If you're paying anywhere between £3 and £15 for a nip of whisky, this is yours.
'We've moved on a little bit from that sort of attitude, because people are more educated, especially on the bar side – but I suppose it depends on where you're drinking. I'm sure there's pubs round the corner that'll throw you out for asking for a whisky cocktail.

Nautical twist: Jamieson likes to experiment with cocktails, eschewing traditional serves

'I definitely encourage my bartenders to try lots of different whiskies and get a taste for it. It's a tough one, because lots of Scottish bars are still focused on other cocktails. People still think of whisky cocktails as your Old Fashioneds or your Whisky Sours, but I like a modern spin on things. On our menu is a Porridge Colada, which is a whisky Colada using oat milk instead of cream, which is pretty cool, with fresh pineapple and whisky fat-washed with coconut.
'Our menu actually has a whole whisky page – which we call a 'chapter' of the history of Leith – which contains plenty of nods to Leith's role as a major port exporting whisky after the wine collapse in Europe. Leith also had a big role in whisky production, with the Pattison Brothers based here, and bottling halls and bonded warehouses all being prominent parts of the area over the years. We try and address all of that. We're excited about the resurgence of Edinburgh as a whisky producer, with Crabbies, Port o' Leith… there's so much happening here.
'As part of that local provenance, when we were looking at ideas and concepts of bars, we couldn't find many that were taking advantage of Scotland's amazing local suppliers. Yes, there are bars with big whisky collections, but nobody was taking advantage of the great aperitifs, spirits and seasonal produce – local pies, charcuterie, foraged goods – being produced in Edinburgh and on our doorstep.

Local heroes: Nauticus is built on the idea of provenance and small Scottish brands

'We started working with smaller guys rather than the big brands and that was our whole ethos. We're both helping out the smaller guys and it means giving back to Scotland and the Scottish community. There's so many people out there doing cool stuff – why not benefit from that?
'We separate whiskies by flavour, rather than region, [because] it's just so flexible. We have a light section for more delicate whiskies; we have a section for something richer like a spice bomb; finished whiskies, because the big guys are doing plenty of things with funky finishes like Glenfiddich's Grand Cru or Tequila casks; a smoky section; and "other", which could be like grain whiskies.
'I tend to think in flavour, breaking things down by spiciness, oiliness and so on. It clearly works – I was part of a blind tasting last week, and I managed to correctly guess all nine Islay whiskies. When I'm not working, I'm cooking, eating and reading as well, lots of cooking and recipe books. It's all flavour.'