After a seven-year stint at Isle of Arran Distillers' Lochranza site, Graham Omand has taken the reins as distillery manager at Lagg, the company's second distillery in the south of the island. He speaks to Matt Evans about his family's whisky legacy and how Arran can dodge the infrastructure issues plaguing Islay.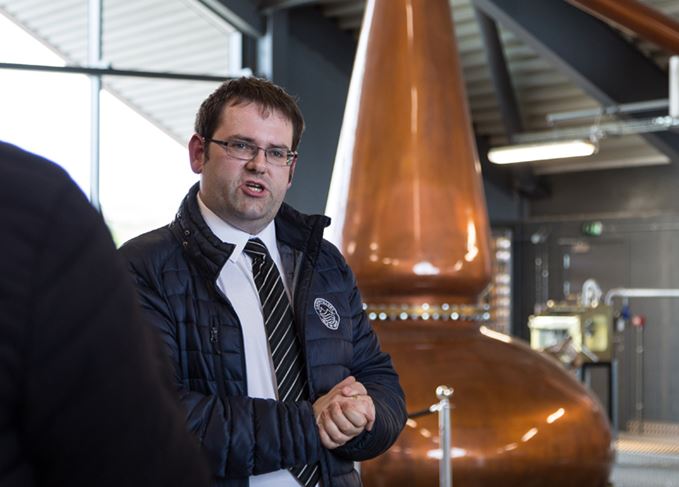 'One of the biggest eye-opening moments of my whisky career was about seven years ago at the Arran Malt and Music Festival. James [MacTaggart, Omand's uncle and Arran master distiller] approached me in his broad Islay accent and said: "'Ey, would you mind doing a masterclass for me? You have to stand in front of 20 people, taste some whisky and talk about it."
'I almost dropped dead with fear. I was only 23, but James just said: "It'll be fine; they'll hang on your every word." It was nerve-wracking, but a fantastic experience. That was the moment I realised whisky was where I belong.
'I'm originally from Islay, so I had an immediate affinity to the whisky industry long before I was working in distilleries. I got a degree in biotech to get into the analytical side of the industry. Around this time, James said to me: "We're hiring to improve our production. You have the qualifications, so if you're willing to work long shifts, you can come to Arran." I immediately said yes.
'My god, it was the best decision I've ever made. I didn't ever want to give it up. I absolutely adored it and my passion and understanding of whisky really flowered at the Lochranza site. It must have shown, because a year ago I was given the opportunity to take the reins at Lagg.
'As Lagg's distillery manager, I have to understand the bigger picture now. When I was working at the distillery in Lochranza, I was often the only one on my shift and my goals were simple. Now I'm in charge of filling, warehousing, logistics and lots of other elements of the business. I've had to learn to delegate. Letting go of that control was the hardest part.

Multi-tasking: As distillery manager, Omand now has to wear many different hats

'Building a distillery anywhere is a headache, but throw in ferries and temperamental weather and that makes it 10 times worse. Sometimes, the construction crew would expect parts and the ferries were delayed for a day, but those sub-contractors couldn't come back for two weeks. It has this knock-on effect.
'These problems are part of operating a distillery on a small island. Infrastructure issues are something we're very concerned about here: Islay's tourism has exploded in the last 10 years and sometimes their roads simply can't take it.
'On Arran, for now, the roads are in pretty good condition, but we are thinking about the increase in numbers. As more people make their way down south, the council understands the roads will need a bit more looking after, particularly with the hauler vehicles that will come to assist us with production.
'It's very intimidating being James MacTaggart's nephew – he's a titan in the industry. Almost everyone who's tasted a whisky knows who James MacTaggart is, which I only realised when I saw people hanging on his every word and travelling across the world to have a chat with him.
'It's scary knowing that, one day, I'll have to step up to be the Islay man on Arran to answer all the whisky questions, but I know James is always a phone call away if I need a wee cheating help. He's imparted a lot of wisdom to me over the last eight years, which has been a great help in setting up the new distillery.

Lagg to the Future: The new distillery is set to bring tourism to Arran's southern end

'Arran's old ways of distilling have had an important influence on our recipe. The reason we picked a heavily-peated style is because, in the past, the island's illicit distillation was always done with peat kilns. It's the classic Arran way. It's a very different spirit to Lochranza, because we already have a peated version of that spirit in the Machrie Moor expressions.
'We're doing a very grassy, malty character and, other than the single Sherry butt which is Cask No 1, we're casking entirely in first-fill ex-Bourbon. We're hoping the ex-Bourbon will give the whisky a slightly rounder, sweeter edge. We're really excited to try it.
'I'm not a big fan of steel washbacks at all. To get a good fermentation, you need to go down the Oregon pine or Douglas fir route. It may be more hassle, it may cost more, but I feel as though a lot of distilleries, with stainless steel everywhere, are depressing sights. Steel washbacks also need a lot of temperature regulation, so we've tried to go wooden as much as we could.
'What makes whisky making on Arran special? I think it's the people. I know that sounds quite clichéd, but the people that work for the distillery are fantastic. Everyone's happy to do their job and everyone wants to give back to the island. The men and women working for their local distilleries feel like they're doing something for the community, creating something for future generations.'