Isle of Arran distillery is releasing a Sherried single malt called Brodick Bay as part of its new limited edition Explorers Series, which pays homage to the island's natural charms.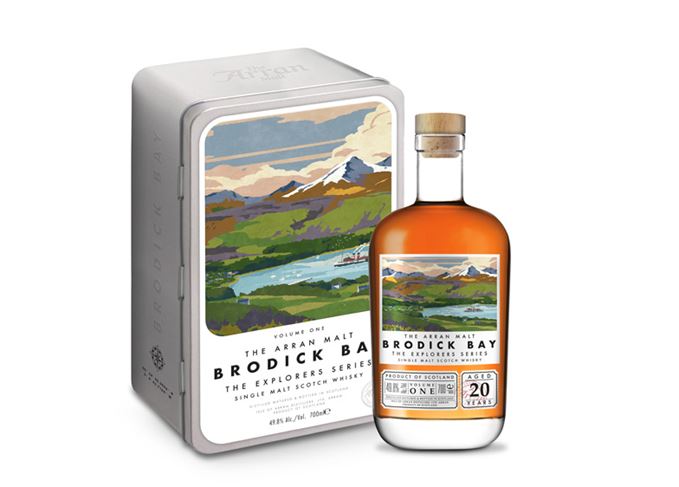 A 20-year-old single malt, Brodick Bay has been matured in ex-Bourbon barrels and ex-Sherry hogsheads before being finished in oloroso Sherry butts from Bodegas Tradición in Jerez de la Frontera, Spain.
Bottled at a cask strength of 49.8% abv, the whisky is said to contain notes of 'creamy toffee' and 'treacle-laced fudge', resulting in 'a memorable sweetness with rich layers of intense fruit'.
Brodick Bay is named for the picturesque bay on Arran's east coast, located around 12 miles from the Isle of Arran distillery at Lochranza, and overlooked by Arran's tallest mountain, Goatfell.
Isle of Arran's managing director Euan Mitchell said the Explorers Series will be a range of single malts from the distillery that celebrate the island's natural beauty.
'This first release is a very complex and multi-layered whisky, which was a conscious choice to reflect the diversity and charm of the island,' said Mitchell.
'Seeing the natural beauty of this island every day is so inspiring. It felt like the obvious choice to pay homage to the picturesque scenery through our new limited edition series.'
Brodick Bay will be available to buy from 10 July from the distillery's visitor centre and website for £130, with sales restricted to two bottles for each customer.
The Explorers Series replaces the distillery's Smugglers Series, Isle of Arran's now discontinued limited range which celebrated the island's illicit whisky history.