As master of maturation for Michter's, Andrea Wilson has something of a love affair with oak. From exploring different species to experimenting with toasting levels, she tells Becky Paskin why cask innovation is so exciting.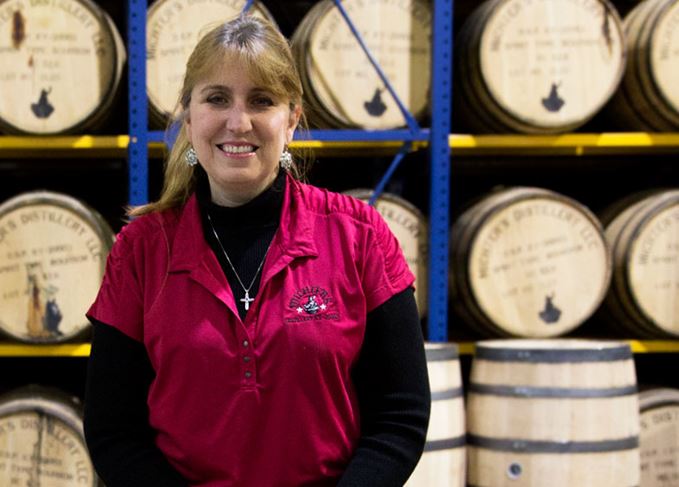 'I grew up with my grandfather having been a moonshiner here in Kentucky. Before he gained good employment, in order to make ends meet he used to make whiskey on the side and sell it. I grew up hearing stories about it. We used to go fishing and he would tell us all these tales of how he would do these deals and sometimes the police would be watching and there would be these high-speed chases and things. I was enchanted by it.
'As I grew up, as a family we made wine and beer – nothing for commercial sale but just out of general interest. I loved doing those things and as a youngster I loved making things, so that is part of my drive. As I got old enough and approached university I wanted to go into the spirits business and learn more about distilling. I graduated, became a master of chemical engineering and was ready for my role in Kentucky Bourbon.
'It was the '90s, and that was not a lucrative time for American whiskey. I couldn't find an opportunity so I went into consulting, which led me to an opportunity with Diageo. I worked my way up, starting with managing an old plant and ultimately ran the North American distilling and maturing business for them operationally. [Eventually] my role was eliminated as part of a corporate downsizing effort. I came aboard with Michter's and I've been with the company for five years now. We have lots of exciting things going on for the brand.
'In 2011 we purchased an old historic building in downtown Louisville, called the Fort Nelson building. It was in incredible disrepair. We had to go through a whole structural rehabilitation of the building, which took many years to complete. We opened the distillery to the public on 2 February 2019, and it's the first time that Michter's has had a brand home.

Fort Nelson: Michter's now has a brand home on the Kentucky Bourbon Trail

'It's different to the manufacturing facility we have in Shively. The location downtown has our old pot stills from when the brand existed in Pennsylvania, along with the old cypress wood fermenters. It has a beautiful pot still system, whereas our main manufacturing facility has a column still system.
'The Fort Nelson site is a stop on the Kentucky Bourbon Trail. People can come and enjoy the distillery, learn the six philosophies of Michter's behind the making of our whisky. They can enjoy a tasting and then visit our world-class cocktail bar experience on the second floor. We partnered with renowned cocktail historian and author Dave Wondrich, who curated our great classic cocktails on the menu. People get to really engage and have an immersive experience with what Michter's is all about, so we're very proud of it.
'I've spent my career in wood science, and I've really gotten into it because there are so many different variables that have a role to play. People just think, "you put these spirits into wood and put it in a warehouse, so what?". But in our case there are hundreds of different toasting profiles that can contribute a combination of different characters. There is already a rich platform for innovation, but then you add in the different types of oak – the law just says you have to use oak, it doesn't say the type of oak – and then there's the warehouse environment, which is affected by the temperature profile and materials of construction.
'We also fill our barrels at a low entry proof of 51.5% abv. The industry allows you to enter into wood up to 62.5% abv, but that low entry content into the barrel means we're adding a lot more water. There's an incredible amount of barrel chemistry that is being supported with the addition of that water. Because water is a powerful hydrolyser, a lot of compounds will start dissolving very easily and that's contributing to the overall maturing quality of that product.

Whiskey heritage: The Fort Nelson site houses Michters' original pot stills and fermenters

'That's what I really enjoy doing – working with the team and changing those different variables. I'm not trying to know everything; I'm trying to work with our team to talk about new ideas and exciting things that we might be able to do to bring new experiences to Michter's consumers. We have hours of great conversations with our team about new things we can try. Some of them work and some of them don't, but it's really engaging to try.
'We're experimenting with a lot of unique things that we can do on the wood side, but we don't release things just to say we did it. We release things based on the quality that we believe the consumer will recognise. That's very important to us, because we're not trying to be a company that's making a flavour of the month, or a new whiskey of the month.
'I was the first woman to chair the Kentucky Distillers' Association [in 2009], which is one of the oldest trade organisations in the United States, dating back to 1880.
'I live for the day that we stop talking about being the first to do this or that as a woman. What I want to see for the future and for the future of the industry is just diversity across everything that we do.
'We sell American whiskey all over the world now, and people have different palates, noses, different cultures, they eat and drink differently. It's important that you have diversity among your team to recognise that. There's such a rich world of diversity out there, you'd be crazy not to operate your business thinking and building a team with diverse mindsets.

Sweet 'n' sour: Michter's uses a variety of recipes to create its US*1 whiskeys

'What's little known is that I've collected postage stamps my whole life. I've always been so interested in other parts of the world. When I grew up we didn't have the internet so it was hard to know about other parts of the world. Postage stamps served as an access point for me to see things such as beautiful flowers that grow in Indonesia.
'I do have a prized stamp, a very old stamp from the early 1900s. It's a Christmas stamp and the artwork on it is beautiful. That's the other thing that's always attracted me, the artistry – some of them are just spectacular. Little mini art canvases.
'I don't collect whisky though; I drink whisky. I find it absolutely fascinating when I get the opportunity to taste whiskies that were made long ago. I just think it's incredibly insightful. It creates this whole list of questions in your head as that whisky moves across your palate, and makes you wonder what they were doing back then and how it was made.
'I very much enjoy tasting old spirits. I love to open bottles of whisky and share them with friends and family and talk about them, because it's the experience for me, it's my happiness. That's where I get the most joy, sharing things with people, not necessarily collecting them. Collectors are collectors, they like to collect stuff, but in the case of whisky, I like to drink it.'