Laphroaig is once again asking for brutal honesty from whisky drinkers as the brand launches its 2016 #OpinionsWelcome global competition.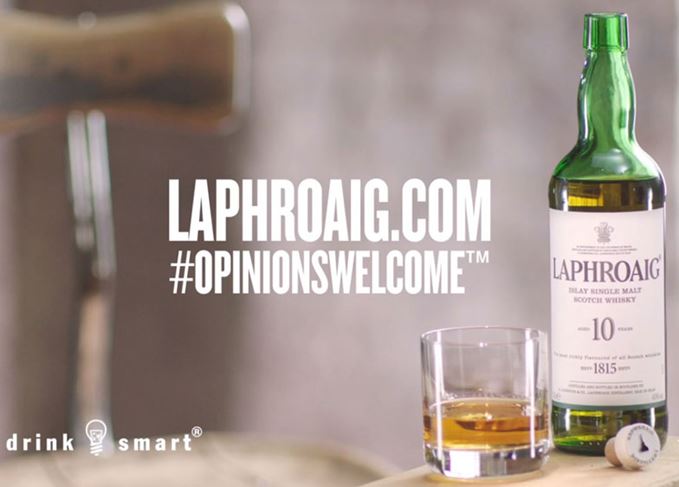 Following the initial campaign in 2015, the social media search aims to find consumers' 'most expressive, poetic and downright unusual descriptions' about the flavour profiles of Laphroaig 10 Years Old, Select and PX.
John Campbell, distillery manager at Laphroaig – owned by Beam Suntory – will choose the top five 'grand prize' winners, whose tasting notes will be printed on the lids of Laphroaig's white tubes, which will be sold around the world.
The winners will also be awarded an all-expenses-paid four-day trip to Islay, where they will enjoy a personal 'Water to Whisky' distillery tour with Campbell, plus a chance to sample whiskies in the distillery's Tasting Room, culminating in a prize-giving ceremony.
Each entry will be judged on its creativity, imagination, humour and honesty.
There are more than 200 prizes up for grabs in total, including a personalised bottle of Laphroaig adorned with the name of the winner, and his or her opinion, for the first 40 runners-up.
The remaining winners will receive a postcard from Islay signed by Campbell and printed with their winning tasting notes.
Opinions so far include this from Francis Grant: 'Like feeling the warm amber of spring as the balrog's whip cracks upon your tongue.'
Other entries are more boisterous, such as this from Gina Hubble: 'Like a kick in the face from a filthy ancient boot! And strangely you love it!'
Son Mai wrote: 'Tastes like fermented books,' while Patrick O'Keefe entered: 'A bit of the bog in every sip.'
Opinions can be submitted until 19 August at www.laphroaig.com/opinions.
Real talk: Love it or hate it, Laphroaig wants to know your thoughts