Beam Suntory Profile
Suntory Holdings is based in Osaka and operates 329 companies and employs a total of more than 37,000 people across Asia, Europe and The Americas. It has interests in the arenas of food, beverages, wine and beer, while the spirits business of Suntory is in the hands of Beam Suntory, which is headquartered in Deerfield, Illinois. It is the world's third-largest premium spirits company behind Diageo and Pernod Ricard.
The spirits focus is very much on whisky, although the portfolio also includes the leading Cognac brand Courvoisier and Beefeater gin. In terms of whisky, Beam Suntory offers Hibiki, Yamazaki and Hakushu Japanese whiskies, produced in the company's two distilleries at Yamazaki and Hakushu.
In the USA the company distils Jim Beam, Maker's Mark and Knob Creek Bourbons in Kentucky and across the border Canadian Club is produced at its distillery in Windsor, Ontario. In Ireland Beam Suntory owns The Kilbeggan Distilling Company, while Scotch whisky brands are the Islay single malt duo of Bowmore and Laphroaig, along with Ardmore, Glen Garioch and Auchentoshan, and Teacher's blended Scotch.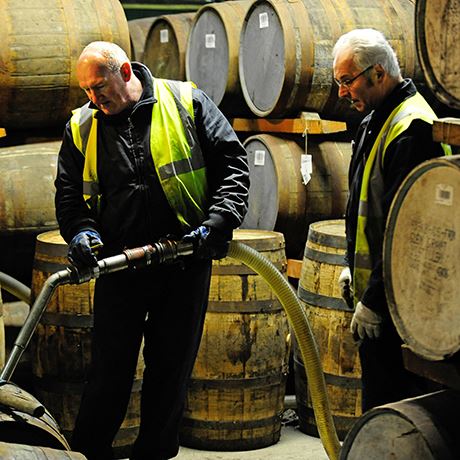 Beam Suntory History
Suntory's origins go back to 1899 when Shinjiro Torii established Torii Shoten and started to produce and sell wine. In 1907 the company launched Akadama Port Wine which gained great popularity. 1924 saw the construction of Yamazaki distillery, as the firm developed its whisky interests and in 1937 the breakthrough, distinctively Japanese whisky Suntory Kakubin hit the market.
In 1973 Hakushu distillery was constructed to provide additional spirits for the growing thirst for Japanese whisky, and in 1994 Suntory moved into the Scotch whisky business with its acquisition of Morrison Bowmore Distillers. It had already purchased 25% of the stocks of what was then Macallan-Glenlivet in 1986.
Another major development for the company came when it bought US-based Beam Inc in 2014, bringing with it an attractive clutch of US, Irish and Scotch whisky interests. Beam had owned the former Cooley distilling business (subsequently renamed Kilbeggan) in Ireland since 2011, having previously acquired Ardmore and Laphroig distilleries and the Teacher's brand as part of a package of 20 spirits and wine brands purchased from Allied Domecq for $5 billion in 2005.
As a Kentucky Bourbon distilling operation, Beam can trace its origins back to 1795 when Jacob Beam sold his first barrel of whiskey. In 1935 Beam's great grandson James began rebuilding the business following the repeal of Prohibition in the US, but sold the business, now known as the James B. Beam Distilling Company to Chicagoan Harry Blum in 1945. Come 1968 the business was acquired by American Brands, Inc (later Fortune Brands), and less than 20 years later James B. Beam Distilling Company was on its own acquisition trail, purchasing National Distillers, which included the Old Crow and Windsor brands, as well as the distribution rights for De Kuyper. Renamed Jim Beam Brands Company, the group set its sights high and in 2005 became the fourth largest spirits group in the world with the $5 billion acquisition of over 20 brands from Allied Domecq. A year later Jim Beam Brands Worldwide was renamed Beam Global Spirits & Wine.
Distilleries & Brands
Islay Hallmark

Blended Scotch Whisky

Premiers

Blended Scotch Whisky

Rob Roy

Blended Scotch Whisky
Associated companies
Contact
Address

Beam Suntory




222 W Merchandise Mart Plaza, Suite 1600




Chicago




Illinois




60654




United States

Phone

+1 (312) 964 6999