The Unicode Consortium, the group responsible for curating and updating the emoji language, has finally added a whisky emoji to its latest update, giving Scotch fans around the world the chance to communicate their love of a dram through an icon for the first time.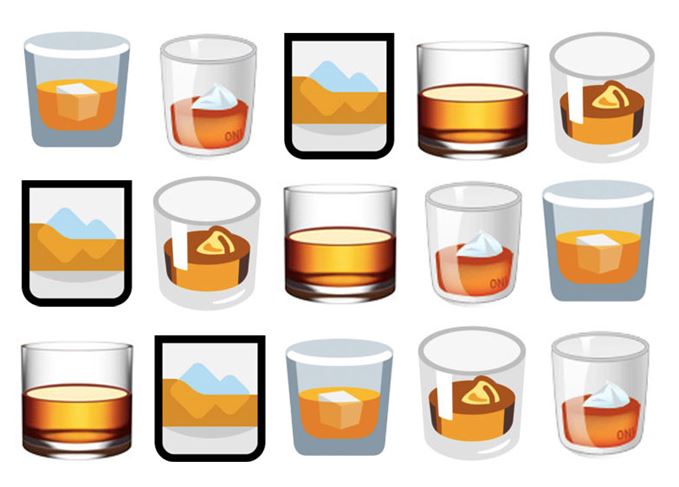 Up until recently, deprived smartphone users were restricted to using icons of beer mugs, a red wine glass or cocktails to communicate what they were drinking when messaging friends or posting on social media.
The addition of the 'Tumbler Glass' – a tumbler containing a dram of dark liquid – in the latest Unicode Version 9.0 update, has finally lead to equality among drink icon choices.
Its inclusion follows a two-year campaign led by blended Scotch whisky Ballantine's.
The brand launched a #whiskyemoji campaign in August 2014 to motivate whisky fans to encourage Apple to include their favourite tipple as an icon. However, it's not known whether the campaign influenced the Unicode Consortium in its decision.
Sophie Gallois, director of marketing at Ballantine's, said: 'People love to use emojis to express themselves in digital communication and it came to our attention that beer drinkers, wine lovers and cocktail fans have been able to spice up their texts with their favourite drink emoji for years.
'Without a whisky emoji, how could whisky drinkers express their love for the spirit that they enjoy? This is why Ballantine's submitted the emoji to Unicode and campaigned so hard to get it approved. After two years we are delighted that the whisky emoji has arrived.'
The whisky emoji was introduced on the Emojidex in June 2016, and gradually rolled out across Twitter, Microsoft, Google, Samsung and, as of last week, Apple smartphones. It's expected to be introduced to Facebook in February 2017.
Apple users who prefer to add ice to their whisky will be disappointed. Controversially, the company is the only one to forgo ice in its whisky tumbler.
Other icons also added in Unicode 9 include Man in Tuxedo, Bacon, Selfie, Rhinoceros and Avocado.