The Craigellachie Hotel in Speyside has launched a no-age-statement (NAS) blended malt Scotch whisky called Copper Dog, designed specifically for mixing.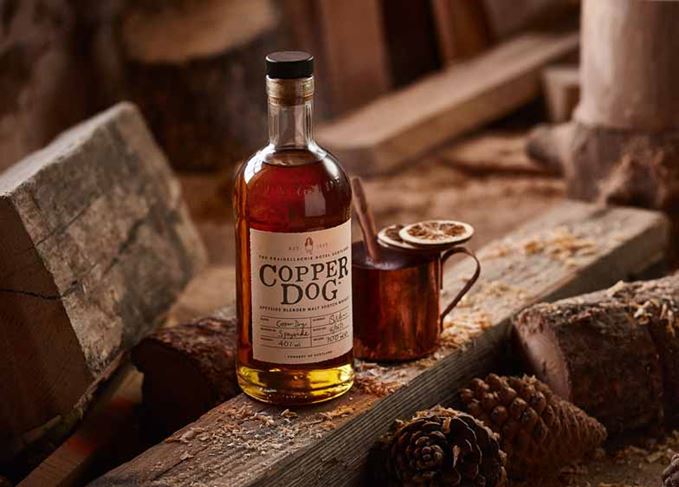 Bottled at 40% abv, the whisky combines eight Speyside single malts supplied by the world's largest Scotch whisky producer Diageo, which has a minority shareholding in the brand.
The name 'Copper Dog' comes from an old device made from copper tubing with a penny soldered to one end and cork in the other, which was used by distillery workers to smuggle whisky home. It is also the name of the bar at the Craigellachie Hotel.
Copper Dog is now available to purchase from the Craigellachie Hotel and The Whisky Exchange for around £28.
Blended by master blender Stuart Morrison, the whiskies included in Copper Dog have been aged in a mixture of refill American and European oak casks, first fill Bourbon casks and rejuvenated casks, before being married in hogsheads.
Suggested Copper Dog serves include the Copper Dog Old Fashioned, made by mixing Copper Dog whisky with Angostura bitters, Monin sugar syrup and garnished with an orange; Copper Dog and soda; Copper Dog and Cola; and Dog House, made by mixing Copper Dog with Hop House lager.
Andrew Torrance, managing director of Copper Dog, said: 'The brand idea for Copper Dog started at the hotel, but we always had aspirations for wider distribution.
'We wanted to make a credible product that would mix well with soft drinks or in a sour. We hope it's a whisky that will appeal to consumers who are into gin, rum and other spirits.
'Our focus has always been on the flavour profile of the whisky, and highlighting the characteristics of the Speyside region. It's about reminding people to drink whisky how they want to drink it.'