You might think that building four distilleries, running a fifth, creating a village and building a hotel would be sufficient to elevate you to the status of 'whisky legend', never mind whisky hero. But the man who did all of these things, Alexander Edward, has been relegated to 'forgotten hero' instead. Such are the ways of life. Dave Broom tries to redress the balance.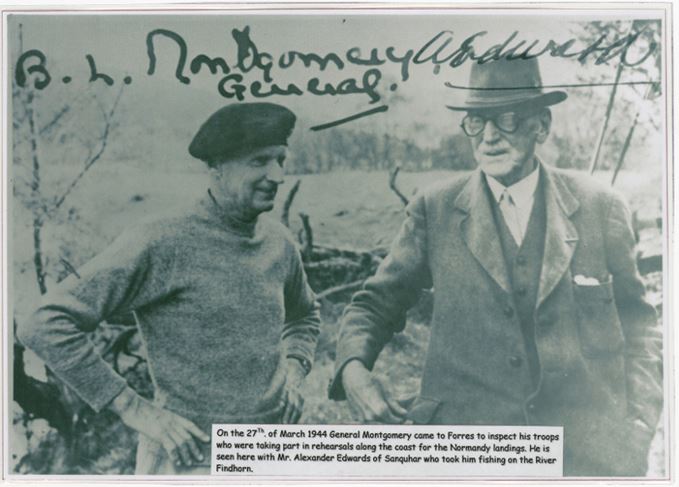 The young tyro, who would eventually become a respected elder, was born on 5 December 1865 in Wester Gauldwell, Boharm, Moray. His father, David Edward, was already an experienced distiller, who would acquire the licence for Benrinnes and own land on the outskirts of the village of Craigellachie.
It would be there, in 1890, that Alexander's active whisky life would start when, at age 25, he would join a consortium with Peter Mackie to purchase his father's land and build the Craigellachie distillery.
When his father died three years later, Alexander Edward inherited Benrinnes and promptly formed another consortium, to whom he sold the distillery for £32,000. He retained some stock and contributed to manage both it and Craigellachie.
Perhaps some of the money was used to fund a holiday he took in 1894, which was written up by the National Guardian on 20 April of that year. The very fact that this would be considered of public interest suggests the young Mr Edward was already something of a celebrity. The paper reported:
'Mr. Alexander Edward… has been away for a month or two of travel up the Mediterranean. He has been to Tangiers, and various places in Morocco. From Gibraltar he was last heard of, and he was expected home in the course of this week…'
On his return, suitably tanned and energised, he got back to work, buying and expanding the brick-and-tile works in Craigellachie, introducing, as the National Guardian reported:
'Machinery and other appliances by which a vastly increased amount of work can be accomplished…'

A nostalgic picture: A gathering at the former Sanquhar House, owned by the Edward family (photo: Forres Heritage Trust)

Edward had a plan – and it went beyond whisky. Scotland was now on the tourist trail. Balmoralism was in full flood, country sports were growing in popularity and Craigellachie had a railway junction, making the previously quiet village a hub. He began to build new villas, which could be rented out in summer.
As well as building villas (from his own bricks – which the National Guardian reported had the quality of not 'sustaining any damage from exposure to frost') he felt the need for a grander statement. As the Dundee Courier and Argus reported on 15 August 1896:
'Mr Edward… saw that something more was wanted than villas to make Craigellachie the fashionable place it is now. He determined to build a first-class hotel. There was an old hotel or roadside inn… quite unsuited for modern requirements, especially of that class which it was Mr Edward's intention to encourage to visit.'
He was aiming specifically at the well-to-do traveller, the sportsman; guests at the hotel had the use of its beat on the Spey. On 31 January 1896, the Banffshire Herald hailed him as 'probably the most expert financier in the North of Scotland'.
At the same time as the hotel was being built, he purchased land to build Aultmore distillery, commissioning Charles Doig as the architect. He appears to have stepped back from Craigellachie the year after and switched allegiance from Mackie's blends to those made by his close friend Tommy Dewar, with whom he shared a passion for motoring.

Craigellachie Hotel: While building the hotel, Edward acquired land to build Aultmore distillery (photo: Archive of John Dewar & Sons Ltd)

He pops up in an anecdote recounted in Robert Bruce Lockhart's Scotch. Two of the author's friends were playing Bridge with Dewar and Edward, and drinking copiously. After Dewar told them off for excessive consumption, one riposted:
'And where would the trade be, Lord Dewar, if we didn't drink?'
Dewar put his cards down, looked at Edward for a moment, and said quite seriously:
'Alec, there's something in what that young fellow says.'
Despite his importance, it is Edward's sole appearance in the histories of the time.
Although he married Cicely Mary Godman in 1899, the marriage was, according to one record, 'not altogether successful', and he and his wife lived separate lives in their Sanquhar estate in Forres. The town was to be the location for his last two investments in Scotch: the establishment of Benromach in 1898 and Dallas Dhu the year after. He then stepped into the background, running a whisky broking firm in Edinburgh.
Edward's taste for the high life hadn't left him, however, and his love of motoring resulted in him being issued with a fine for speeding in 1903, a black mark against a man who had been made a Justice of the Peace in 1898.
Like many of his colleagues, he was of philanthropic bent. In 1926, he offered to open a 'fighting fund' for farmers faced with the possibility of the market being flooded with cheap Russian grain, and gifted the Kintail sporting estate to the Inverness Northern Infirmary in 1928. During the Second World War, he allowed Sanquhar to be used as an auxiliary hospital.

Ambitious plans: Alexander Edward commissioned Charles Doig as architect of Aultmore distillery (photo: Archive of John Dewar & Sons Ltd)

He passed away, aged 80, on 3 March 1946. His obituaries focused not just on his achievements in whisky; the Elgin Courant & Courier called him:
'One of the oldest and best-known distillers in Scotland.'
And on his sporting prowess:
'He was passionately fond both of rod and gun… Few could throw a line more expertly…'
Edward appeared to have been a man who was well-loved. Even the business reports of his ventures make space to write about his generosity and kindness. He may, as the Press & Journal reported, have been 'one of the greatest personalities in the Scottish distilling industry'.
But more importantly, he appeared to have been loved. Why, then, is he forgotten?
Unlike his friends and associates, he wasn't a blender. He may have been an entrepreneur, but he didn't appear to court publicity. There is no sense that he wished to. Given his business acumen, if he had wanted to become one of the whisky barons, he had the nous to succeed.
It is time that he was recognised for his insight. Many remarkable men built distilleries. He was the only one who connected Scotland, whisky and tourism. Alexander Edward: the pioneer of whisky tourism. A man not just of his time, but of ours as well.
On 28 April, Dave Broom will join Lyndsey Gray, bar manager of The Quaich, for a tasting of rare whiskies from Alexander Edward's distilleries, in the hotel he built – The Craigellachie. Tickets are available at www.spiritofspeyside.com.