The first bottle of Lagavulin's 1991 anniversary single cask release has sold at auction for £7,300 – nearly five times more than its suggested retail price.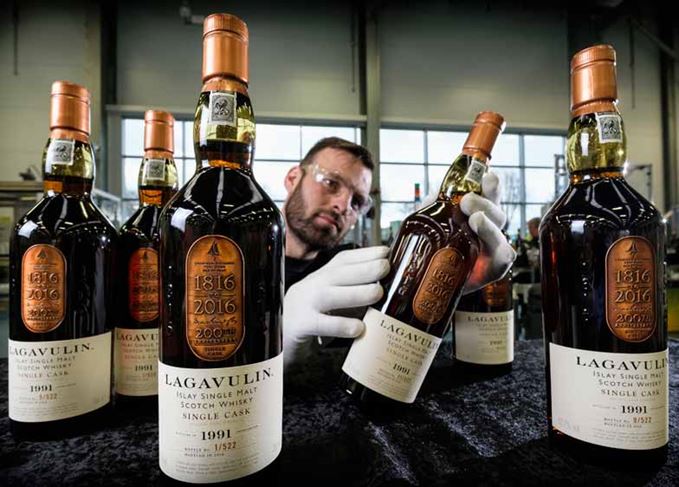 Part of the Islay distillery's 200th anniversary celebrations last year, only 522 bottles of the 24-year-old, 52.7% abv single malt were released in January 2017, priced at £1,494 each.
Bottle number one was put up for auction online at Whisky.Auction, and received a winning bid of £7,300. Lagavulin owner Diageo donated the entire proceeds to Islay Heritage, which combined with the donation from Whisky.Auction's buyer's commission brings the total raised from the sale to £8,395.
The winning bidder will also receive a leather-bound notebook, featuring handwritten notes from Lagavulin distillery manager Georgie Crawford and whisky writers Dave Broom, Ian Buxton, Colin Hampden-White and Charles MacLean.
Crawford wrote: 'Our distillery character shines in this whisky and, as distillery manager and an Ileach, I am proud and grateful that the auction of this bottle is helping Islay Heritage to tell the story of this remarkable island we call home.'
The remaining bottles – bar one donated to the Diageo archives and another to project partner The Whisky Exchange – were sold through a ballot run by The Whisky Exchange, which received entries from more than 7,000 whisky enthusiasts from 74 countries.
More than £500,000 was raised from the release, which will be shared between seven Islay initiatives to promote the island and its communities.