A collection of Macallan single malt whiskies has set a new world record price for any lot of whisky sold at auction, selling for more than HK$7.72m (US$993,000).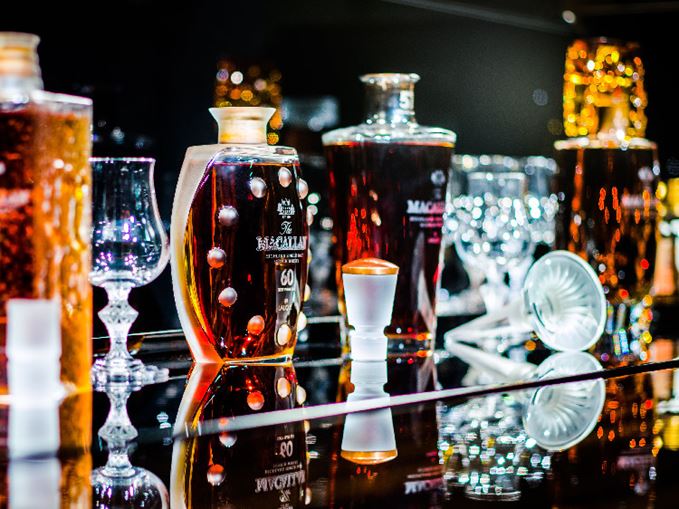 The Macallan in Lalique Six Pillars Series – The Legacy Collection, comprising Scotch whisky aged between 50 and 65 years, was auctioned by Sotheby's in Hong Kong on Sunday (2 April).
The winning bid by an unnamed buyer almost doubled the high pre-auction estimate for the lot, which was predicted to sell for HK$2-4m/US$260,000-500,000.
Presented in an ebony cabinet from Lalique and sourced direct from the distillery, the collection included:
Macallan 50yo 'Exceptional Oak Cask'
Macallan 55yo 'Natural Colour'
Macallan 57yo 'Finest Cut'
Macallan 60yo 'Curiously Small Stills'
Macallan 62yo 'Spiritual Home'
Macallan 65yo 'Peerless Spirit'
Macallan Fine & Rare 1937, 1938, 1939 (two 5cl bottles of each)
12 Macallan Lalique Dynasty glasses
Ken Grier, creative director for the Macallan, said: 'To achieve this outstanding price at auction is testament to the quality, detail and absolute skill and mastery of the Lalique craftsmen and our expert whisky makers, and we are proud that this work of art has secured a wonderful contribution to Asian charities.'
Proceeds from the auction will be used to help charities working with disadvantaged people in Hong Kong and across Asia, from providing food and medical needs, to teaching people skills to help them back into employment.