Nearly 500 rare whiskies and nine casks with a combined value of about £4m will be sold later this month in what is billed as 'the most valuable collection of whisky ever to be offered at auction'.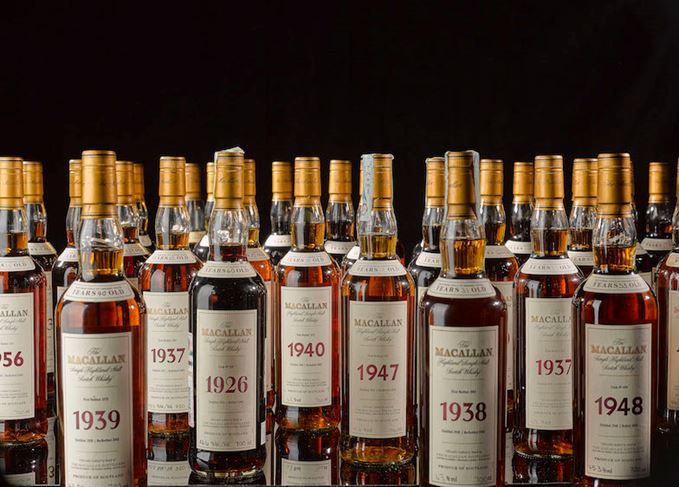 The Sotheby's sale on behalf of an American connoisseur known only as 'The Ultimate Whisky Collector' includes 394 lots, 467 bottles and nine casks, spearheaded by an extremely rare bottle of Macallan 1926 60 Years Old, drawn from the fabled Cask #263.
Macallan dominates the sale – comprising half the lots and a combined estimated value of more than £2.2m – but there are also rare bottles from Samaroli, Gordon & MacPhail, Bowmore and Port Ellen, among others.
The Ultimate Whisky Collection begins as an online sale, with bidding due to open on 27 September, and culminates in a live auction on 24 October at Olympia, London, alongside RM Sotheby's annual sale of collectible motor cars.
'Collecting whisky over these past 20 years has been a real passion of mine, though it was not something I set out to do,' said 'The Ultimate Whisky Collector', who spent his youth in the UK, but now lives in North America.
'I have always loved drinking whisky – as family and friends will attest, to this day I can be found most evenings with a cigar in one hand and a glass in the other – but I was a wine collector first. I then found myself looking at unique bottles of Scotch, initially attracted by the beauty of the labels.'

Independent's day: The sale includes a number of whiskies from Italian bottler Samaroli

He became a particular fan of single malts from Macallan, Bowmore and Highland Park, with US-based whisky specialist Jonathan Read playing a key role in developing the collection.
Among the Macallan highlights of the sale is a 178-bottle collection of Fine and Rare spanning seven decades, from 1926 to 1991, including a bottle of Macallan 1926 60 Year Old from the same cask as the legendary Peter Blake, Valerio Adami and Michael Dillon Macallans. It is expected to fetch up to £450,000.
There are two Macallan in Lalique Six Pillars Collections on offer, housed in hand-made cabinets designed by British craftsman James Laycock, and also expected to sell for up to £450,000 each.
Laycock also designed the wall-mounted cabinet that houses a collection of 46 Macallan Fine and Rare miniatures, dating from 1937 to 1991, and expected to fetch up to £88,000.
Beyond Macallan, there are a number of famed releases from Italian bottler Silvano Samaroli, including Bowmore 18 Year Old Bouquet (high estimate: £30,000), Laphroaig 15 Year Old Sherry Cask 1967 (£30,000) and Springbank 12 Year Old (£17,000).
Gordon and MacPhail bottlings include Mortlach and The Glenlivet 70-year-old Generations releases (£20,000 and £19,000 respectively), Macallan Queen Mother's 80th Birthday (£12,000) and single malts from Glen Grant, Linkwood and Macallan Speymalt.

Bespoke cabinet: James Laycock designed this to house 46 Macallan miniatures

Islay single malts include all Black Bowmore bottlings, the Bowmore Trilogy series of Black, White and Gold Bowmore, and a complete vertical of Port Ellen Annual Releases, plus a 40-year-old Ardbeg 1965.
Also on offer are the oldest bottlings from Glenfiddich (64-year-old from 1937, plus two releases of its 50-year-old) and Balvenie (50-year-old from 1937), as well as four expressions from Dalmore aged for 50 years or more, and a Highland Park 50-year-old alongside Orcadian Vintage Series releases from 1964, 1968, 1971 and 1976.
The casks on offer, with a combined estimated value of more than £336,000, include Bowmore and Laphroaig from 1995, Octomore from 2012, and casks from Dalmore, Bunnahabhain, Clynelish, Highland Park and Springbank.
'The Ultimate Whisky Collection comprises what is undoubtedly the most comprehensive catalogue of whisky ever to be offered by a single owner in a single auction,' said Jonny Fowle, Sotheby's newly appointed spirits specialist.
Sotheby's Wine chairman Jamie Ritchie hailed the sale as a 'historic moment' for spirits, reminiscent of the auction house's first wine sales in New York in 1994, and in Hong Kong in 2009.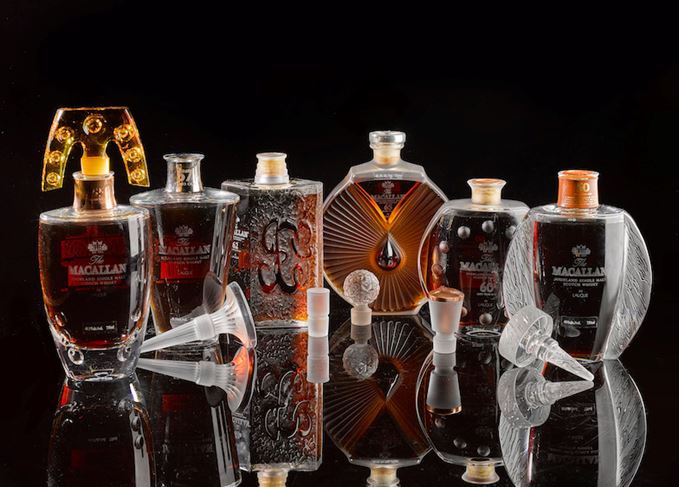 Doubling up: The sale includes two complete Macallan Lalique Six Pillars Collections