Whisky prices at auction have been rising inexorably in recent years, fuelled by a succession of record-breaking bottles. But there is some evidence of prices softening in the first few months of 2019, so what's going on? Richard Woodard investigates.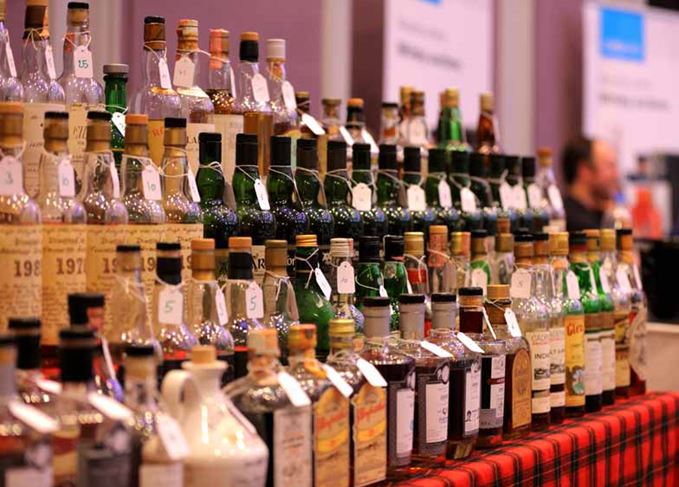 On 14 August 2018, chaos enveloped the normally quiet B-road that passes Macallan's new £140m distillery: up to 250 cars parked up on verges, the police enforcing partial road closures as people camped by the roadside.
The reason for this mayhem? The first come, first served release of Macallan Genesis, an NAS single malt created to mark the opening of the distillery. Of the 2,500 bottles available, only a reputed 360 were on sale at the distillery shop, with the rest destined for Macallan airport boutiques in the Far East.
The lucky few paid £495 for their bottle of Macallan Genesis; less than two weeks later, the same whisky was fetching close to £5,000 on auction websites. In the months since then, hundreds more bottles of Genesis have been auctioned – but now they're changing hands for as little as £1,500 each.
Strangely enough, the tale of Genesis isn't necessarily indicative of a broader trend of declining prices. The 'flipping' culture prevalent in whisky's secondary market often follows this pattern, with new releases fetching eye-watering sums amid the initial hype, before pricing falls as the market calms down and attention moves on to the next big thing.
'We have seen a nice "new release curve", as we've titled it, on Genesis, which is pretty much what we expect to see,' says Andy Simpson, director and co-founder of whisky analyst and broker Rare Whisky 101 (RW101).
Dr Chris White, auctioneer at Royal Mile Whisky Auctions in Edinburgh, concurs. 'There is this initial spike when it's a hot, sexy new bottle coming onto the secondary market,' he says. 'Then it declines and plateaus.'
Dr White speaks as an outside observer: Royal Mile Whisky Auctions does not accept any limited-edition whisky within a year of its release, part of an ethical policy designed to deter flippers.
'Annoyingly (for some), flipping remains pretty lucrative,' adds Isabel Graham-Yooll, auction director, Whisky.Auction. 'This is a familiar trend, so if you don't factor this in, you can end up misinterpreting the data.'

Ups and downs: Pricing for Macallan Genesis has been a rollercoaster since its release

What does that data show? At first glance, decline. There are red numbers in all three of RW101's Apex indices for 2019 year-to-date (ending 29 April), which chart the best performing 100, 250 and 1,000 bottles of rare whisky: Apex100 -6.27%; Apex250 -1.66%; Apex1000 -1.53%. Not exactly a slump, but still a little shocking after 2018's record numbers.
For Simpson, Macallan is the main reason for the decline: 'That one Speyside distillery accounts for over 35% of value supply on the UK secondary market,' he points out.
RW101's Macallan Exceptional Single Cask Index, benchmarked at 100 in April 2018, had fallen to 55.49 by the end of April this year, and there is some evidence of price falls for Macallan 18-year-old bottlings and, further up the value scale, for Macallan 1946 52-year-old.
Remove Macallan from those Apex indices and, voilà, they're up 2.05%, 0.42% and 0.20% respectively. Still a clear slowing of growth versus last year, but no decline.
The simple mechanics of supply and demand could offer a more compelling reason for the slowdown. January, March and April 2019 were all record-breakers in terms of the number of bottles of single malt sold at auction in the UK, while February was the eighth busiest month in history.
In March, 13,347 bottles of single malt were sold in UK auctions (RW101 data), versus 9,149 in March 2018 (and 4,710 in March 2016); in April, the figure was 15,830, practically double last year's total of 7,976 (and more than four times April 2016's figure of 3,740).
'In my opinion, there's been oversupply for the whole of 2019,' says Simpson. 'I know some big collectors who've given up looking at auctions as there's just too much out there. I think there's an element of market fatigue.'

Too much: Andy Simpson reckons oversupply has followed an overheating of the market

That's not the view of Graham-Yooll at Whisky.Auction. 'Demand seems to be greater than ever,' she reports. 'Our experience is that buyers are becoming much more educated, so they are branching out in their interests. This might have the effect that they aren't all clamouring for the same bottles each time.'
Given the stellar prices achieved by whisky at auction in the past few years, it's hardly surprising that the market is flooded with sellers looking to cash in. But Dr White picks out another possible factor: Game of Thrones.
Diageo's collection of eight single malts linked to the hit HBO fantasy series was only released in Europe earlier this year, but bottles have already found their way onto auction websites; and the new whiskies may have a significance beyond mere flipping.
'If anything, it's brought to more people's attention this way of being able to auction whisky online,' says Dr White. 'People who don't care or know about whisky, but are massive fans of Game of Thrones, and realise that they've got whiskies tucked away in their cellars. We've got a lot of new sellers potentially coming out of the woodwork, who've been made aware of this whisky world.'
Simpson floats other potential reasons for market softening: 'unsustainable' pricing for ultra-rare bottlings such as Laphroaig 1967 Samaroli in late 2018, and the inability of some small auction sites to match the prices achieved by their larger, higher-profile rivals for the same bottles.
'I think the market is naturally correcting itself after a period of overheating (Sept/Oct/Nov 2018), followed closely by a period of oversupply (Jan-Apr 2019), drawn out by the aforementioned overheating,' he suggests. 'Interestingly, for many things, prices have firmed back up (a lot) this month, but Macallan values in general still look to be cooling.'

Object of desire: This Laphroaig 1967 Samaroli fetched £61,000 at auction in August 2018

The pricing pattern followed by Macallan Genesis may be a familiar one, but Dr White wonders if the 'flippers' are finding their money-making task a little more difficult as the market expands.
'It's harder now because there are so many people looking to buy a bottle and then immediately auction it,' he argues. 'There is a slight flooding of the market even compared to 12-24 months ago… It's probably a bit more difficult now to make a quick buck.'
It's worth remembering that whisky's secondary market is still relatively youthful and small, certainly when compared to fine wine, and that the online auction marketplace is less than a decade old.
That means that isolated instances of high prices – perhaps when two bidders compete fiercely for one bottle – or of the opposite dynamic (less competition and lower prices) can have a disproportionate impact on the broader market's statistical trends.
And, for collectors with relatively narrow interests, generic movements are of limited relevance. If you're only interested in Laphroaig, you probably don't care about soft Macallan pricing dragging down the market – and you're better off focusing instead on the detailed value evolution of the bottles that you do want.
Scotch whisky secondary market pricing trends are complex and fragmented, making the drawing of general conclusions about what lies behind those trends fiendishly difficult. One thing, though, is certain: recent events are unlikely to deter the flippers.
That the same bottle of Macallan Genesis can fetch £4,800 at auction in August 2018 and only £1,500 eight months later might seem shocking (not to mention nonsensical) but, if you only paid £495 for it in the first place, that's still not a bad return. Even if you did have to camp on the verge of the B9102 to get it.