Compass Box is releasing the third edition of The Double Single, a whisky it has dubbed 'the world's simplest' blended Scotch.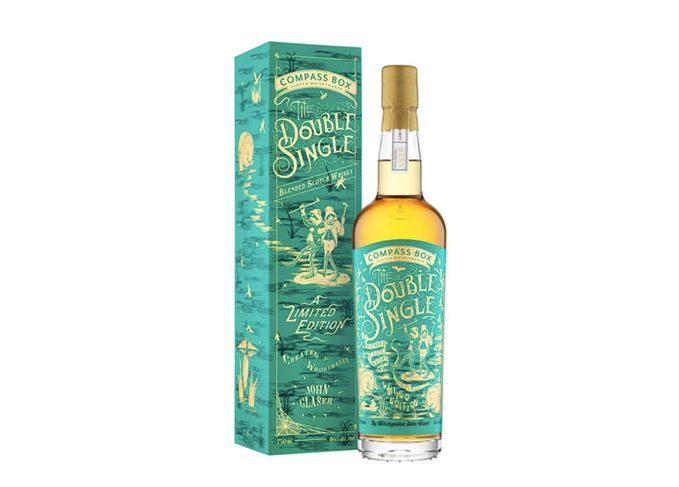 The Double Single consists of just two elements – malt whisky from Speyside's Glen Elgin distillery that's been matured in re-charred ex-Bourbon hogsheads and comprises 72% of the blend, and grain whisky from the Lowland Girvan distillery, matured in re-charred ex-Bourbon barrels.
The brand was originally the idea of Duncan Elphick and Tatsuya Minagawa of The Highlander Inn in Craigellachie, who approached Compass Box founder John Glaser in 2003 to create an exclusive limited edition for the bar.
While almost all blended Scotch whiskies comprise several different malt and grain whiskies to generate layers of flavour and texture, Elphick and Minagawa's plan was to blend just one single malt with one single grain whisky.
Glaser said: 'How many components are required to create true complexity in a blended Scotch whisky? For Double Single, instead of using many tens of component whiskies, we have used just two – one single grain whisky and one single malt whisky, hence the name.
'Both are beautiful liquids in their own right, but the way we've combined them in Double Single, the resulting whisky is an elevation above the mere sum of their parts. This is what blending is all about, whether in Scotch whisky, in wine, in perfume.'
Glaser added that the first two editions of the Double Single had become cult favourites among whisky enthusiasts.
'We recently got hold of some beautiful old single malt whisky from the Glen Elgin distillery, so we decided the time was right to create a new edition,' he added.
Just shy of 6,000 bottles of the third Double Single edition have been produced, bottled at 46% abv without an age statement.
The expression was launched across Europe this month, and will be rolled out to the US from 1 June, priced at £150/US$175.