Compass Box has released a pair of limited edition expressions including a 'spirit drink' known as Stranger & Stranger, a blend containing 1% grain spirit aged for 18 months.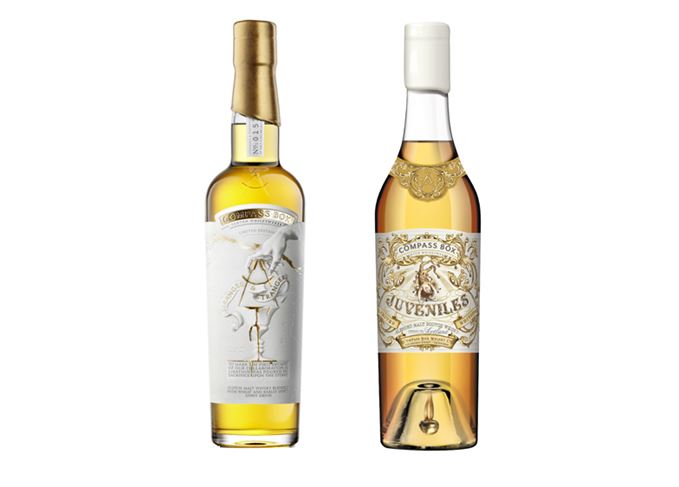 The remaining 99% of the blend is comprised of 17 to 22-year-old single malts from Glenlossie, Glen Elgin and Linkwood distilleries.
Because the grain spirit is under three years old, Stranger & Stranger cannot legally be classified as Scotch, which has lead Compass Box to refer to the blend as the '"not-technically-a-whisky" whisky'.
The grain spirit originates from Girvan distillery and was previously used by Compass Box to season freshly made casks.
Compass Box founder John Glaser said: 'We didn't know what [the grain spirit] would taste like after a year in these experimental new barrels.
'Turned out, it was amazing, and adding just a small amount to old single malt whiskies provided a lovely underlying sweetness and complexity.'Stranger & Stranger is named after the package design firm that creates Compass Box's distinctive labels, which celebrates the 10th anniversary of its partnership with the whisky maker this year.
Bottled at 46% abv, the spirit drink is said to contain notes of 'custard and dark sugars, fresh apple and an appealing herbal character'.
Only 4,802 bottles of Stranger & Stranger are available worldwide in specialist retailers from December, priced at £150.

Open secret: Compass Box's recipes are freely shared to encourage transparency in whisky


Compass Box has also introduced blended malt whisky Juveniles, named after Parisian wine bar Juveniles Bistrot à Vins.
Juveniles is a no-age-statement vatting of single malts from Clynelish, Glendullan, Strathmill and Balmenach distilleries.
Created based on a brief from Juveniles owner Tim Johnston, the whisky was designed to be 'bright, smooth, not smoky' and to work 'equally well as an aperitif as it would after dinner with cheese'.
Juveniles is said to contain notes of 'barley sugar, pear drop and vanilla' and is bottled at 46% abv.
The bottle, adorned with a label featuring a jester, contains a bell embedded in the base that rings when it is picked up, which is designed to bring 'the whimsy at the heart of Juveniles' to life.
A total of 14,894 bottles of Juveniles are available worldwide from December, priced at £100.
Compass Box chooses to reveal the recipes for its expressions as part of its ongoing advocacy for transparency in Scotch.
The blender launched a global campaign in February 2016 in an attempt to encourage greater transparency in the packaging and promotion of spirits, which ended in September that same year.
This article contains affiliate links, which means we may earn a small commission if a reader clicks through and makes a purchase. All our journalism is independent and is in no way influenced by any advertiser or commercial initiative.