An environmental project involving Glenmorangie has re-introduced wild native oysters to the Dornoch Firth for the first time in more than 100 years.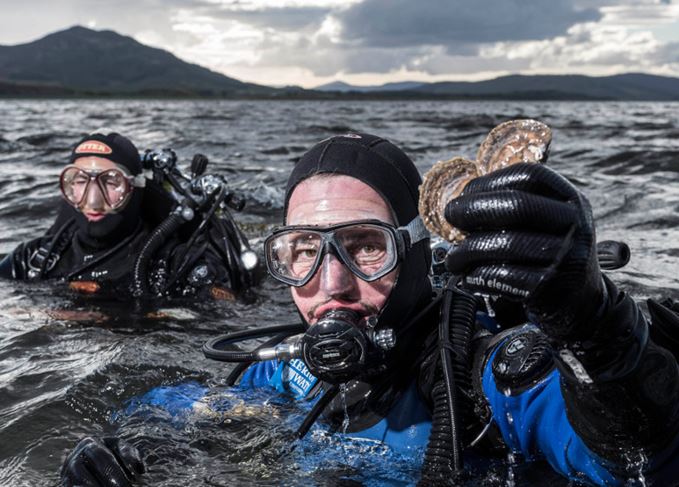 The restoration of oysters to the site coincides with the opening of Glenmorangie's new £6m anaerobic digestion plant, which will purify up to 95% of waste water the distillery releases into the Firth, while the oysters will clean the remaining 5% of organic waste naturally.
Native oysters were plentiful in the Firth up to 10,000 years ago, but became extinct in the 19th century due to overfishing.
The return of oysters to the Firth comes following a partnership between Glenmorangie, the Marine Conservation Society (MSC) and Heriot-Watt University that was agreed in 2014 – the Dornoch Environmental Enhancement Project (DEEP).
The project's aim was to restore oyster reefs to the Firth, enhance biodiversity and work alongside the anaerobic digestion plant to purify whisky by-products.
Earlier this year, 300 oysters from the only 'sizeable' wild oyster population in the UK, Loch Ryan, were placed at two locations in the Firth.
Hamish Torrie, director of corporate social responsibility at Glenmorangie, said: 'We want to ensure that the Firth's pristine habitat will be preserved and enhanced over the next 170 years.
'This restoration of oyster reefs in the Dornoch Firth, which is an internationally recognised special area of conservation, will help us realise our long-term vision of a distillery in complete harmony with its natural surroundings.'
A recent inspection of the reefs showed that 80% of the oysters have so far survived. Heriot-Watt University researchers will study the reef over the next 18 months, and hope to have an 'established reef' in five years.
Dr Bill Sanderson, associate professor of marine biodiversity at Heriot-Watt, said oyster reefs are some of the most endangered marine habitats on the planet.
He added: 'It is thanks to Glenmorangie's foresight and long-term commitment that we can create a pioneering reef restoration project in the Dornoch Firth.
'It will take many years, but we have the ambition that the DEEP project is an example that could be replicated in other parts of the world.'