Independent bottler Wemyss Malts is launching the Wemyss Family Collection – an annual release of blended malts based on the main influences on Scotch whisky flavour.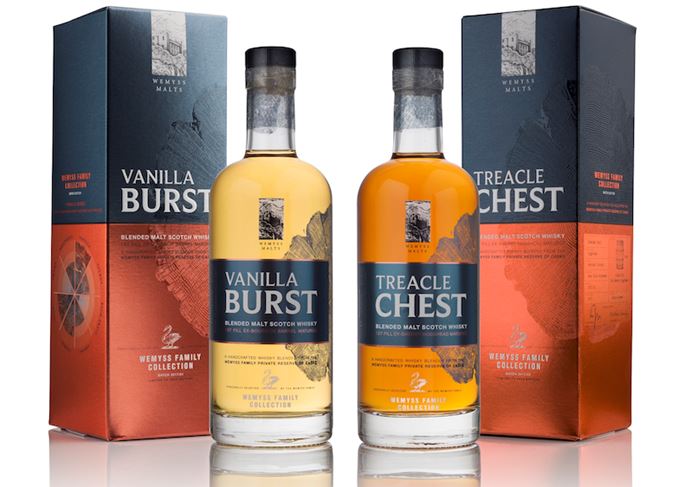 The annual Wemyss Family Collection releases will focus on a different influence on Scotch whisky flavour each year, including region, distillation technique, peat level, peat terroir and cask effect, all chosen with the guidance of experts including Charlie MacLean.
The initiative begins with the release of two no age statement (NAS) blended malts, showcasing the contrasting influence of first-fill ex-Bourbon and ex-Sherry casks, and given flavour-led names by the Wemyss Malts tasting panel:
Vanilla Burst: A vatting of two 'light and fruity' Speyside single malts, matured in 15 first-fill ex-Bourbon barrels. Priced in the UK at £43/70cl; 4,800 bottles available
Treacle Chest: A vatting of two Highland single malts with a 'sweet, cereal' character, matured in 14 first-fill ex-Sherry hogsheads. Priced at £47/70cl; 6,300 bottles available
Both whiskies are bottled at 46% abv, without chill filtration or colouring, and are packaged in screenprinted 70cl bottles with charcoal- and copper-coloured gift cartons.
The new range is sourced from the Wemyss family's private collection of casks, incorporating spirit selected from a number of Scottish distilleries and matured in casks sourced by the family-owned company – rather than using whisky that has been acquired when already mature and ready to blend.
'It is with great anticipation and excitement that we release to the drinks enthusiast and whisky community the first two Wemyss Family Collection bottlings,' said William Wemyss, founder and managing director of Wemyss Malts.
'We are very proud of the quality of these two blended malts and look forward to seeing how future yearly releases will compare.'
Both blended malts will be available from mid-August at retailers in the UK, EU and key Asian markets.