The 2017 edition of Midleton Very Rare – the 34th annual release from the Irish whiskey distillery – has been launched with new packaging.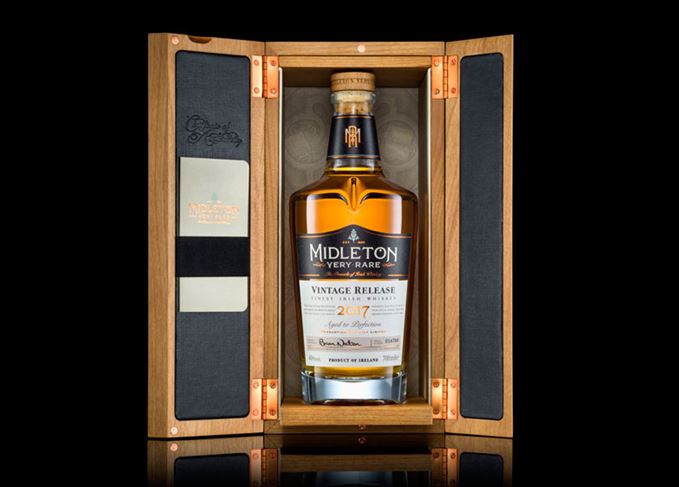 The blend, created by master distiller Brian Nation, comprises single pot still and grain whiskeys drawn from a batch of ex-Bourbon barrels with an age span of 12 to 32 years.
Midleton Very Rare 2017 includes the oldest whiskeys used in the blend to date: 32-year-old grain whiskey and 26-year-old single pot still whiskey.
Billed as 'the pinnacle of Irish whiskey', Midleton Very Rare was created in 1984 by Nation's predecessor, Barry Crockett, now Midleton's master distiller emeritus.
Nation said it was a 'privilege' to carry on the work initiated by Crockett, adding: 'Due to the hand-crafted nature of this whiskey, there are slight variances in taste from year to year, which add to the special nature of this whiskey.
'The 2017 cask selection includes some 32-year-old Midleton grain whiskey, which will contribute the lighter floral perfume notes, along with some citrus fruit.
'A 26-year-old single pot still whiskey has also been selected, which delivers a wide spectrum of typical spice character, such as sweet cinnamon and clove.'
The 2017 edition has a new bottle shape – taking inspiration from a writer's inkwell, with a design detail that evokes a pen nib – and a new presentation box.
Midleton Very Rare 2017 is bottled at 40% abv without chill-filtration, and is priced at €180 for a 70cl bottle.
The new bottle will initially be available in the US, Canada, Ireland and Ireland travel retail, rolling out to other markets, including the UK, from April 2018. In the meantime, these other markets will have the 2017 edition in the old packaging.
The launch coincides with the start of the Midleton Very Rare Cask Circle, a private members club offering individual single pot still and single grain whiskeys for sale to collectors and investors.