Ireland's Midleton distillery has unveiled Midleton Very Rare 2018, the 35th in its annual series of high-end blended Irish whiskeys.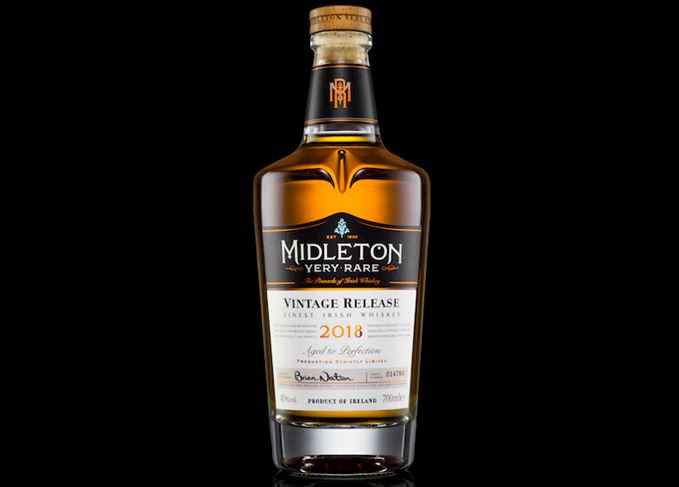 Described as a blend of 'exceptional, rare and hand-selected single pot still and single grain Irish whiskeys', Midleton Very Rare 2018 is made up of whiskeys matured exclusively in lightly-charred ex-Bourbon American oak barrels for between 12 and 28 years.
The whiskey is said to have a 'subtle floral note, alongside a hint of fresh herbs and citrus from the Irish grain whiskey contribution, which is complemented by the spicier Irish single pot still whiskey characteristics of cinnamon, clove and black pepper'.
'We set aside very small amounts of particularly fine single pot still and single grain distillates each year, so that the Midleton Very Rare legacy can continue,' said Brian Nation, master distiller at Midleton Distillery in County Cork.
'This practice has been going on for over 40 years and today we are the proud custodians of the exceptional distillates, with a duty of care to ensure that future generations are able to enjoy the pinnacle of Irish whiskey as we do today.'
Bottled at 40% abv, Midleton Very Rare 2018 is available in countries including Ireland, the UK and the US from this month, priced at €180 a bottle.
The series of annual releases began in 1984, and was led by Irish Distillers master distiller emeritus Barry Crockett until his retirement in 2014, when Nation took over.
This article contains affiliate links, which means we may earn a small commission if a reader clicks through and makes a purchase. All our journalism is independent and is in no way influenced by any advertiser or commercial initiative.