Highland single malt anCnoc has released Peatheart, a permanent new expression described as its 'smokiest whisky to date'.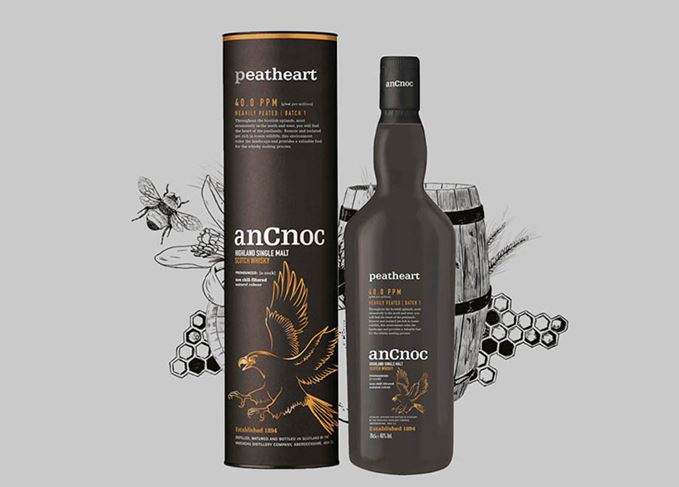 The no-age-statement whisky, produced at Knockdhu distillery in the village of Knock in Aberdeenshire, takes its name from peat bogs surrounding the area.
Made using barley peated to 40ppm (phenol parts per million), anCnoc Peatheart is described as 'intensely smoky' with notes of leather, stewed apples and chocolate.
The expression is the first peated whisky from the brand to communicate the ppm of the barley used, rather than the liquid itself.
Peatheart's launch follows the culmination of the brand's Peaty Collection, a series of limited edition single malts celebrating the traditional tools used to cut peat.
The Peaty Collection was lauded for defying industry convention by communicating the ppm of the liquid itself, rather than the barley.
As phenols are often lost during the whisky production process, it's widely considered that the ppm of the barley is not a true reading of a whisky's 'peatiness'.
A spokesperson for the brand told Scotchwhisky.com the change was made to 'fall in line' with industry standards.
'Peatheart's 40ppm is the phenol content of the malted barley, whereas on previous anCnoc peated expressions the ppm was the measurement of the phenol content of the finished product, i.e. the liquid.
'We were one of the only brands to communicate the ppm of the whisky as opposed to the barley, yet the consumer understands the industry standard better, which is the ppm of the barley.'
Bottled at 46% abv, anCnoc Peatheart will be available globally for around £52 for 70cl.
It joins anCnoc 12-, 18-, 24- and 35-year-old in the core range.
This article contains affiliate links, which means we may earn a small commission if a reader clicks through and makes a purchase. All our journalism is independent and is in no way influenced by any advertiser or commercial initiative.