Talisker is set to launch a new series of Sherry cask-finished whiskies inspired by the style produced at the Skye distillery in the early 20th century.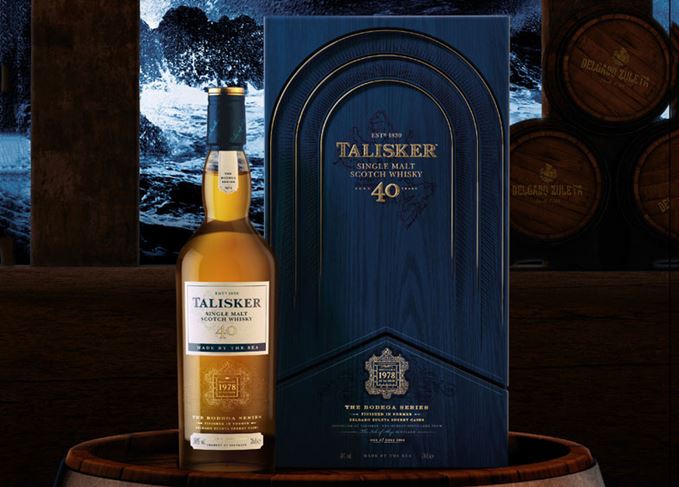 The Talisker Bodega Series will launch at the end of June with a 40-year-old single malt finished in amontillado casks sourced from one of Jerez's oldest Sherry producers, Delgado Zuleta.
The 1978 vintage – the oldest yet released by the distillery into global markets, and 'one of Talisker's most valuable expressions to date' – has been matured in refill American oak barrels before being finished in the 'special and unusual' 40-year-old amontillado Sherry casks.
Donald Colville, global brand ambassador for Talisker, said the Delgado Zuleta expression, and the Bodega Series as a whole, embodied 'the wildness of Skye with the warmth of Spain'.
He said: 'It is a magnificent, lion-hearted old Talisker, rich with the sophistication of age, yet still full of life and retaining the make's familiar maritime and spicy character.'
Talisker's blenders took inspiration for the Bodega Series from the company's extensive archives, which detail the types of cask used by the distillery in the early 20th century.
Colville added: 'The power of our archive helps everything we do as a company, and this bottling is steeped in that history.
'Throughout the ledgers and archives we have, we go back to the early 1900s and see the different types of Sherry casks used at Talisker to mature the whisky, and Delgado was being used as a key supplier of casks to the distillery.
'The 1978 vintage pays homage to reimagining the flavours that were potentially being enjoyed back then. It's a wonderful addition to the range.'
The 50% abv expression is described as 'a deep, crystal gold liquid which signifies an echo of the old Talisker', featuring notes of white grape, sultanas, sea salt and smoke.
Two thousand bottles, presented in hand-carved oak cases, will be available for £2,750 each from specialist retailers around the world, as well as in global travel retail.
The Delgado Zuleta 1978 Talisker is the first in the Bodega Series, which will expand each year with a different expression matured in Sherry casks sourced from a bodega within Spain's 'Sherry Triangle'.
The oldest expression of Talisker to be bottled to date was a 41-year-old for a private customer in China.
This article contains affiliate links, which means we may earn a small commission if a reader clicks through and makes a purchase. All our journalism is independent and is in no way influenced by any advertiser or commercial initiative.