With a degree in chemical engineering and a tenure at Teaninich distillery behind her, Diane Farrell took the helm at Talisker on Skye as its senior site manager almost 18 months ago. She tells Matt Evans about working on such a well-loved whisky and that time she underestimated the Old Man of Storr.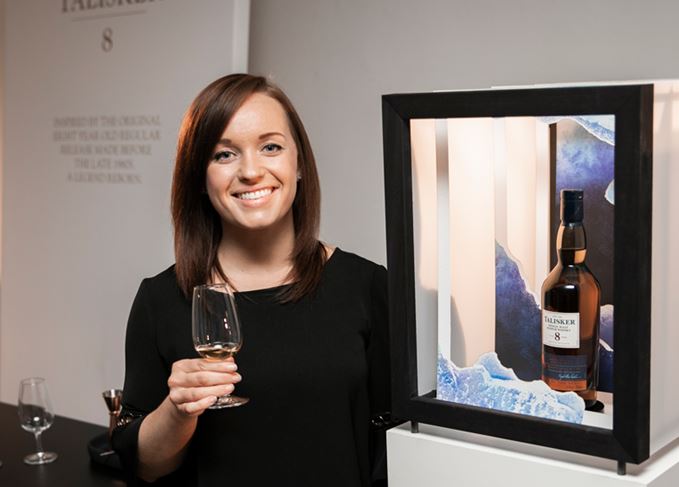 'I never used to be a whisky drinker because the misconception I had, that a lot of drinkers have, is that all whisky tastes the same. It takes time to discover what flavours you like – luckily, I love Talisker!
'I studied my master's degree in chemical engineering at the University of Strathclyde, and then I was asked to join Diageo's graduate scheme in 2012. On the graduate programme I worked in project management and did my dissertation in maturation, which gave me some understanding about how the business came together.
'I moved up to the Scottish Highlands to become the distillery manager at Teaninich distillery, and was there for 18 months before the role at Talisker came up. It was too good an opportunity to miss, and I just wanted to be part of it all – I like to embrace challenges.
'Talisker's an iconic, well-loved brand and in terms of how the whisky's produced, I didn't change anything coming into the job. That process will never change, but we can always make improvements in the way we do things, such as using less water and overseeing ongoing projects to try and conserve energy, to make us more efficient.

Coastal air: Does Talisker's Atlantic atmosphere contribute to its flavour?

'Obviously, as it says in our title, we're made by the sea, so that has an influence over the production process. Talisker's surrounded by fresh, salty air that blows in from the Atlantic, which contributes to the flavour that ends up in the glass. However, in terms of being directly influenced by the sea air, it's difficult to say: only a small percent of Talisker is actually matured here, as most of it is matured in warehouses on mainland Scotland. But Talisker just tastes like Talisker, whether it's matured here on site or in the central belt.
'The location of the distillery still takes my breath away. It's truly a beautiful place – a distillery battered by the elements on the windswept coast of the Isle of Skye – and if you've been here you get transported right back here with every drink, sitting by the sea with your campfire burning, sipping your whisky. I think it's quite special.
'If you haven't been, you need to come. Last July we opened up the new Talisker Boat Bar in the visitor centre, which has been a huge success. We've got so many visitors coming – we have between 75,000 and 90,000 visitors arriving each year – so if people turn up that aren't able to do the tour, then we want to give them the opportunity to try our full range of whiskies.
'The Hebridean Whisky Trail is a fantastic initiative and I think it will continue to grow the more people get to know about it. VisitScotland listed the trail as one of the "nine reasons you should visit Scotland in 2019". We're building a fantastic partnership with our "new neighbours" as we call them [Harris, Raasay and Torabhaig distilleries], so we're expecting it to go from strength to strength.
'Skye is probably similar to Islay in the sense that it's growing and growing in popularity. It was listed by National Geographic magazine as one of the most beautiful places in the world to come and visit. There are some incredible walks and views, but the island did get some bad press in terms of infrastructure, because people were told there might not be enough accommodation for everyone.

Location, location: Farrell is anxious to explore more of Skye in the summer months


'However, we're not seeing a huge impact at the distillery. We want people to come and visit, because it's a beautiful place and we want people to have an incredible experience when they do come.
'I love keeping fit. I'm actually looking forward to the weather getting a bit better (which on Skye, means it needs to get a lot better) so we can get out and explore the island. I've only scratched the surface of the walks I want to do here – I've done the usual walks such as the Fairy Pools, but there's still so much that I want to see. I had to invest in walking boots for the first time – the first big walk I did was Old Man of Storr, but 1,800 feet later, my pink Nike trainers didn't quite match up to my expectations!
'My best whisky moment was quite early on in my role here. I was in my house, looking out of my window, over the same water the distillery looks over. You could see the distillery in the background, and I just remember having a drink with my partner and feeling so, so proud that I had become the site manager here. It just really sunk in at that point.'