Two rare bottles of 60-year-old Macallan, not seen at auction for more than three decades, are set to smash records when they are sold by Bonhams in Hong Kong this May.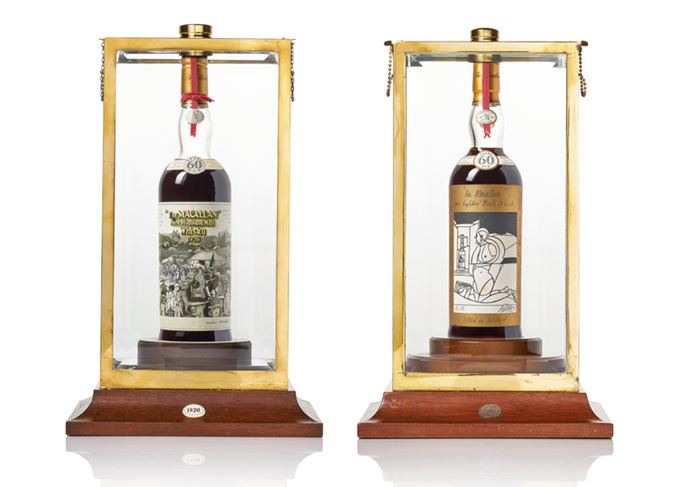 Distilled in 1926, bottled in 1986 and last auctioned in the 1980s, the two bottles feature labels designed by Peter Blake and Valerio Adami, two leading figures of the Pop Art movement.
Only 12 bottles of each edition were produced, and were originally offered as corporate gifts to Macallan's most valued customers.
The bottles are packaged in 'tantalus' cabinets, specially commissioned to echo the traditional distillery spirit safe, and each has a pre-sale estimate of HK3.6m-4.6m (£330,000-425,000).
'These bottles are exceptionally rare,' said Daniel Lam, Bonhams' head of fine wine and whisky in Hong Kong.
'The exceptional calibre of the whisky, combined with the wonderful artwork from two towering figures of 20th-century Pop Art – Peter Blake and Valerio Adami – represent a unique marriage of excellence.
'Only 24 of these bottles were produced, and the sale is a once-in-a-generation opportunity for collectors to acquire the Holy Grail of Macallan.'
Sir Peter Blake is best-known for his artwork for the landmark Beatles album Sgt Pepper's Lonely Hearts Club Band, released in 1967, and designed an artwork incorporating eight decades of Macallan miniatures to celebrate his 80th birthday in 2012.
Italian artist Valerio Adami is renowned for painting bold, flat forms outlined in thick, black lines, in a style reminiscent of comic art.
In April 2017, a collection of Macallan – The Macallan in Lalique Six Pillars Series – set a new world record price for any lot of whisky sold at auction, fetching more than HK$7.72m (US$993,000) at Sotheby's in Hong Kong.
The Bonhams Rare and Fine Wine and Whisky Sale is scheduled for Friday, 18 May at 6pm, at Bonhams, Suite 2001, One Pacific Place, Admiralty, Hong Kong.