With an expansion of Arran distillery now complete, Isle of Arran Distillers MD Euan Mitchell reveals plans for the island's second distillery, and its very peaty future. Becky Paskin reports.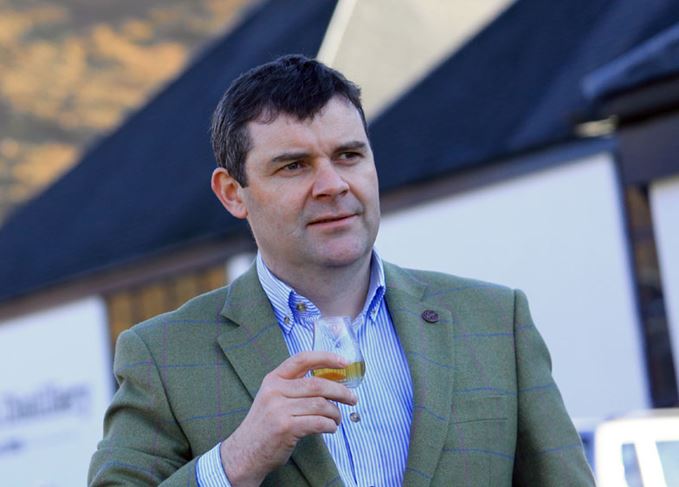 'It's been quite a journey. I joined Isle of Arran Distillers in 2003 and the distillery then was only eight years old. The whisky was pretty young and the market was still pretty sceptical about young whiskies then. It was quite a hard process building the brand in those days.
'The perception of younger whiskies has totally changed now – people are much more open-minded and the quality of wood management has improved in that time as well.
'Arran was a young, independent distillery then and there were no new distilleries on the horizon except perhaps Kilchoman, of course. You're now reading about new distilleries every week, so the market has really come full-circle.
'I particularly remember tasting an old-style Springbank 15-year-old in Campbeltown when I worked with Cadenhead, and that was really the first one that made me sit up and take notice.
'Flavour profiles have definitely changed. I remember years ago being at a tasting of '60s, '70s and '80s Laphroaig and it was like tasting three different brands. Blind, you would never have associated them as being the same thing, as everything changes over time as production methods evolve.
'A lot of these old bottlings are what got people excited about whisky in the first instance. You just hope that in the future there will be the same lightbulb moment for people coming into the category.

New breed: Although Arran distillery was built in 1995, the island has a long history of whisky making

'We've been doing a lot of research on the Isle of Arran of late. A local historian called Gregor Adamson has written a book for us with fascinating stories about local farmers smuggling their wares across to the mainland, trying to hoodwink the excisemen.
'There's a story of a local smuggler getting caught with two casks, and the excisemen were persuaded before they took him back to the mainland to await his fate to have a meal at the local Lagg hotel. In the meantime, the two casks of whisky were replaced with seawater.
'There are lots of these stories of trying to outwit the taxman. It's been interesting because everyone associates the whisky on Arran with ourselves, but actually the island has had a long history of producing whisky legally and illegally.
'Whisky's story is massively important. Single malt is all about the place it was made and the people who make it. It's not just a brand; it's not just a label that sits on the shelf. It's all about the story behind it. Certainly being on an island there's a sense of romance. There's escapism. We really want to tap into that.
'The island markets itself as "island time in no time". You are not travelling for hours and hours to get there and there's nothing more appealing than watching the bars on your phone signal disappear as you arrive.
'You get that sense of being somewhere else, and the pressures that apply on the mainland don't apply here. Arran has a lot to offer visitors; it's a very beautiful island.
'Like anybody being on an island, you're kind of at the mercy of the elements. Countless times I've sat in the ferry queue at Ardross to be told the ferry's not sailing that day, or be on the boat and it's turned around after 15 minutes. There are times we've had to stop distilling because malt couldn't get to the island because of the ferry being off.
'There are so many distilleries coming on stream now, but when Arran started in 1995, Harold [Currie, founder of Isle of Arran Distillers] had just turned 70. It takes some feat to be starting a brand-new single malt distillery back in the '90s when the industry was in something of a recession, and at the age of 70.
'He had such a twinkle in his eye, even as he was getting more infirm in later years. He'd come to the distillery in a wheelchair and was always cracking a joke with the younger members of the team. He was just a real character, and enjoyed a dram.
'His funeral was a sad occasion, but really marked somebody who'd absolutely made their time on Earth, so it was a happy occasion as well. A life well-lived for sure.
'Harold knew about our plan to build a second distillery on Arran before he died and, in typical Harold style, he said: "You're absolutely crazy". He had quite a hard time getting the planning through for the original distillery as there was some local opposition, but that all melted away as the years went by.

Lagg distillery: Arran's second distillery will be dedicated to exploring the effect of peat on whisky flavour

'Phase one was to build three new warehouses because we're getting short of space at Lochranza. In the last few weeks, groundwork has started on phase two, which is the distillery and visitor centre itself at Lagg.
'The plan is to be handed the keys at the end of next year, commission the stills early 2019, and open the doors to visitors at Easter 2019.
'At the moment the vast majority of production at Lochranza is unpeated – that's the classic Arran malt style – but we do make a small amount of peated every year [called Machrie Moor]. When Lagg distillery opens, 100% of the peated production will move down there.
'Lagg single malt itself will be a heavily-peated style. We want to explore peat from different places, and how that impacts on flavour and how it matures and develops over the years.
'When you talk about peated malt, people always ask: "What ppm is it?" and you tell them and that's the end of the discussion. But we think that there's a lot more knowledge out there to be tapped into about the impact of peat itself.
'PPM [phenol parts per million] is a useful guide for people, but in the future it will be used in the same way we used to talk about the regionality of malts, splitting them up into Highland, Lowland, Island, Campbeltown. But of course within these regions there's a huge diversity of styles. To say a whisky's peated is just the start of the discussion.
'It's a journey as much for ourselves as anyone else. We don't make any bold claims to be experts on the subject; we just think the whole peated aspect is something that can be explored in much greater detail, rather than just as a ppm number. That's too simplistic and there's a lot more knowledge to be had.'
Discover more about Lagg distillery and its whisky style in our Whiskypedia section.