Macallan is 'daring to disrupt the whisky making process' with a new travel retail-exclusive series of single malts.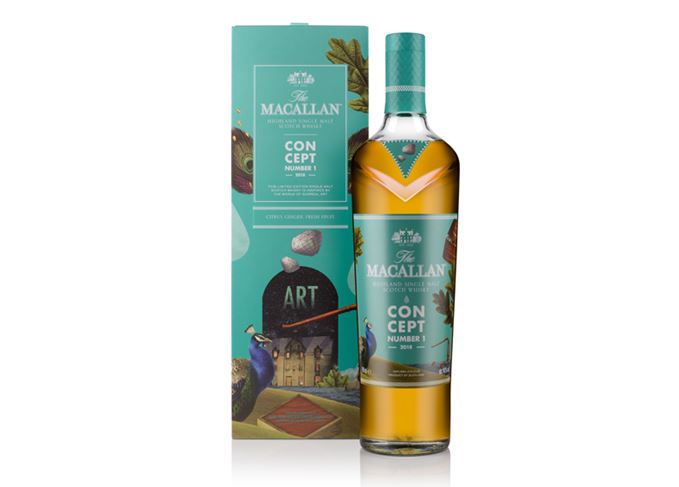 The new Macallan Concept range is designed to celebrate the world's visionaries and challenge convention, with the first release, Concept No. 1, inspired by surrealism.
Concept No. 1 is a no-age-statement malt created using 'innovative production techniques' – instead of first being matured in ex-Bourbon casks, it has been given a Sherry cask maturation first before being aged further in ex-Bourbon for an equal amount of time.
A spokesperson for Macallan said the process 'represents a play on the more traditional approach, in which whisky is matured in former Bourbon barrels before being finished for a short period of time in Sherry-seasoned casks'.
Nick Savage, master distiller for Macallan, said: 'The innovative process developed to produce this remarkable single malt pays tribute to the visionaries of the surreal art world, and reflects our continuous search for excellence.'
Said to contain notes of 'butterscotch toffee' with soft oak spices, fresh fruit and ginger', Concept No. 1 is bottled at 40% abv.
The bottle's label and outer packaging features a surrealist interpretation of Macallan's Six Pillars, the six key elements that comprise the Macallan spirit, as part of the bottling's homage to the art world.
The Six Pillars are listed as the distillery's spiritual home on the Macallan Estate, its small stills, the spirit cut from the stills, its 'exceptional' oak casks, its natural colour and 'peerless' finished spirit.
The whisky will launch in Dubai airports in December, and other markets worldwide from January 2019, priced at US$125 for a 700ml bottle.
Further releases in the Concept range are expected in 2019.
The series joins Macallan's other travel retail exclusive whiskies, including the four-expression Quest Collection, unveiled in October last year.