Macallan has opened the first of a 'new concept' of whisky boutiques at Dubai International Airport (DXB), offering prestige single malts and exclusive bottles.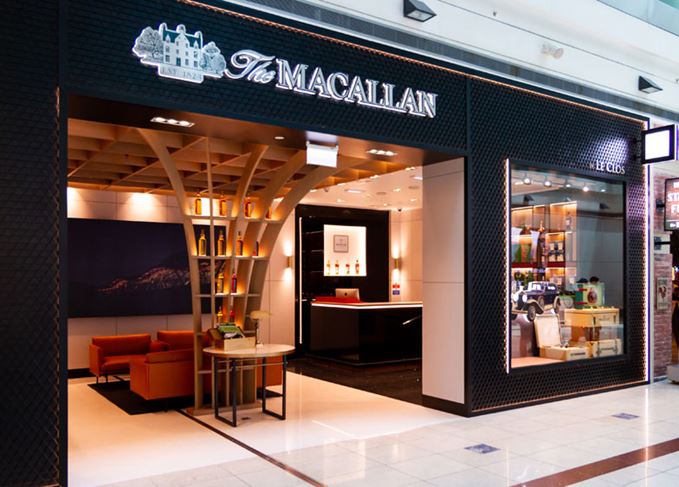 The Macallan Boutique is a partnership between the Speyside distillery and Dubai-based duty free wine and spirits specialist Le Clos.
Situated in Terminal 3 at the world's busiest international airport, the boutique is the result of a multi-million pound investment that will see Macallan stores open in key airports and cities across the world.
The DXB store opened on 16 June, with design cues taken from Macallan's new £140 million distillery and offering a 'prestige wall' of old and rare whiskies, including a select range of Fine & Rare bottlings, Masters of Photography as well as travel retail exclusives.
Also on offer is a number of core range and limited edition whiskies, including Macallan 15- and 18-year-old, as well as Edition No.4 and Rare Cask Batch 2.
Every outlet will also offer the exclusive Macallan Boutique Collection, a new, no-age-statement, small batch single malt, with a new edition released every year.
The 2019 edition has been matured in a combination of first-fill and refill European oak casks seasoned with oloroso Sherry.
Bottled at 52% abv, the whisky is described as 'sweet and fruity with orange oil and oak spices', and will be available at Macallan's DXB Boutique, at the distillery and at themacallan.com for US$202.

Shop exclusive: A new Macallan Boutique Collection edition will be released each year

The DXB Boutique opening comes almost a year after the launch of Macallan's new £140 million distillery and visitor centre.
Suzy Smith, managing director of Macallan in global travel retail, said the boutique programme marks the start of the brand's 'next chapter'.
She said: 'This new concept of boutiques is an opportunity to really immerse yourself in the Macallan brand in a way you wouldn't be able to in another store.
'Particularly with the opening of the distillery last year, we're giving people a chance to get to know the brand better if they don't get a chance to go Speyside.'
Visitors to the boutique will be shown a video of the landmark distillery being built, and the dramatic light and sound show that marked its opening in July 2018.

'Prestige wall': The stores will sell old and rare Macallan editions from its prestige range

Smith added: 'Each store will be a gateway to the world of the Macallan, from the stunning cinematography of the Easter Elchies estate to the exceptional whisky available to taste.
'As we continue to roll out these boutiques globally, we hope more people are able to catch a glimpse into the home of the world's most valuable single malt.'
Macallan has operated a branded shop in Taoyuan airport in Taiwan since 2016, and a 'shop within a shop' at Marina One in Singapore since June 2018.
Both outlets will be 'upgraded' to mirror the style of the new Macallan Boutiques over the next 12 months.
Smith added that the next Macallan Boutique is being lined up to open in Heathrow Terminal 3 later this year, although domestic outlets are also being planned for 'key destinations'.
The opening comes as Edrington, owner of Macallan, reported a 6% increase in sales of the whisky in 2018.