Collectors from around the world fought fiercely to acquire a hidden stash of pre-Prohibition American whiskey at auction, with several lots fetching many times their pre-sale estimates.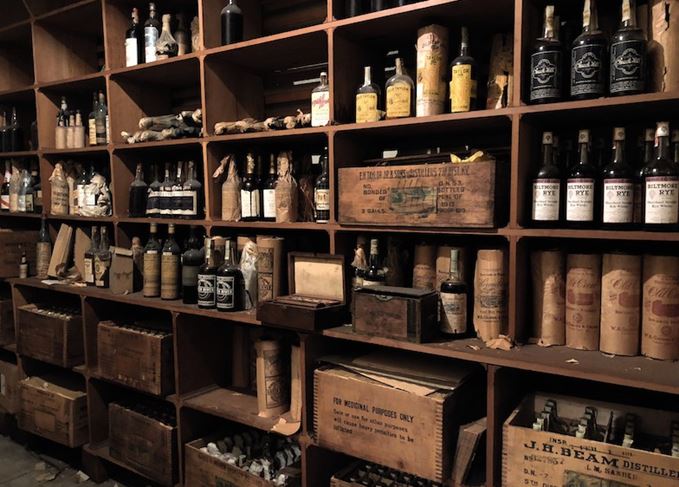 Among the highlights of the auction, held by Christie's in New York on Friday, were century-old pint bottles of Hermitage whiskey distilled in 1914, Old Crow distilled in 1912, and Biltmore Rye Maryland Straight Whisky, in bottles labelled to order for the Biltmore Hotel in Los Angeles.
The sale followed the discovery of more than 40 cases of unopened bonded whiskey, some of it in unlabelled and unidentified demijohns, in a secret vault in a property in Hancock Park, Los Angeles, in 2017.
The vault room, built behind a 'Prohibition-era' bookcase façade and protected by a 10-bolt door, was created by banker and trader Jean-Baptiste Leonis in the early days of Prohibition.
Christie's said many lots from the 'unprecedented' collection exceeded their initial estimates by multiples, including nine quart bottles of JH Beam Old Style Brookhill Sour Mash 1912, which sold for US$26,950, versus a pre-sale low estimate of US$3,800.
Five quarts of Hermitage Pure Rye Whiskey, distilled by WA Gaines in 1908, sold for US$22,050 (pre-sale high estimate: US$3,500); 12 quarts of Old Crow Bourbon 1912 fetched US$22,050 (US$10,000); and 24 pints of Hermitage Whiskey Bottled in Bond 9 Years Old 1914 were sold for US$23,275 (US$9,500).
The overall sale, which included other wines and spirits, plus a collection of rare old Madeira, had total receipts of just over US$3m, with 81% of lots sold.
'Both of our featured collections of Madeira and pre-Prohibition American whiskey witnessed exceptional results,' said Chris Munro, head of wine department, Americas, for Christie's.
'Clients from throughout the United States and around the globe fought to acquire these exceptionally rare lots. The sale was a watershed moment for these incredibly rare and sought-after American whiskies as hammer prices smashed through our pre-sale estimates.'