Scottish chemist Dr James Crow is often credited with pioneering the sour mash process. True or not, the distiller lent his name to one of Bourbon's best-selling brands, and left his mark on a thriving industry, Gavin D. Smith discovers.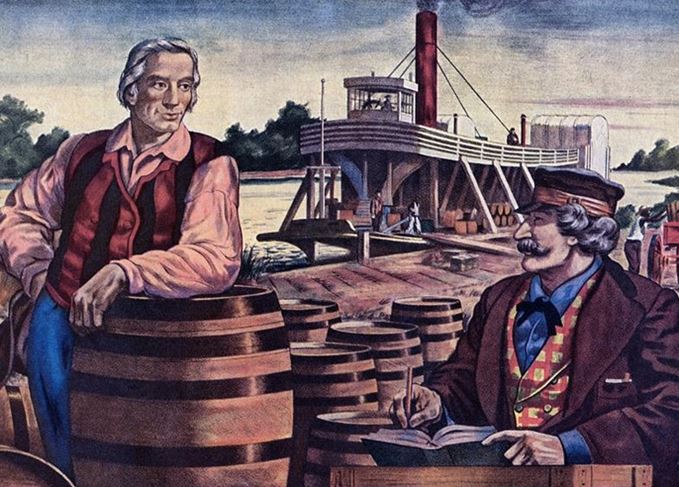 The name 'Jim Crow' has two very different associations for citizens of the US. One was a fictional black slave in 19th century minstrel shows, and 'Jim Crow Laws' subsequently enforced racial segregation across The South until the mid-1960s.
The second Jim Crow was an altogether more positive figure, a Scots-born chemist who applied scientific techniques to the distillation process, shaping significantly the Bourbon we drink today.
Born in the Highland capital of Inverness during 1779, James 'Jim' C. Crow studied medicine and chemistry at Edinburgh University, graduating in 1822. The newly-qualified doctor emigrated to the US that same year, and initially spent time in Philadelphia, where he was apparently declared bankrupt, though there are no details of the context in which this occurred. He then moved south-west to Kentucky in 1823, where commercial whiskey distilling was starting to become big business.
There are few details of his early years in Kentucky, but by 1835 Crow was working for Colonel Willis Field at his Grier's Creek distillery in Woodford County. Here he put his scientific knowledge to good use, employing litmus paper to test for acidity in the mash and a saccharimeter to measure sugar content, while thermometers and hydrometers were used to calculate temperatures and liquid density of the spirit.

Changing places: Today Old Crow whiskey is made at Beam Suntory's Clermont distillery

Crow went on to be employed as master distiller by Oscar Pepper, who succeeded his father Elijah Pepper in 1838 at the Old Oscar Pepper distillery at Glenn's Creek, near Versailles, which is now home to Woodford Reserve distillery. Various dates are cited for Crow's engagement by the Pepper family, including 1833 and even 1820, at which point he was actually still an undergraduate in Edinburgh.
It is sometimes stated that James Crow invented the sour mash process, and this is supported by an article in an issue of the trade publication Bonfort's Wine & Spirit Circular dated 10 January 1884:
'While Oscar Pepper was carrying on the business, James Crow came to this country and applied to him for employment and got a position in the business. Mr. Pepper noticed the fermenting capacity of spent beer, and mentioned one day to Crow his belief that a mash could be fermented by its use without yeast. They commenced a series of experiments, and the result was the discovery of sour mash whiskey.'
Other sources claim that the use of sour mash was already known, and that Crow was actually the first distiller to apply scientific principles to the process, leading him to be able to achieve a much greater consistency of quality in his whiskey making. He understood the need for a regime of strict cleanliness and chose quality over quantity, delivering a maximum of two and a half gallons [11.3 litres] of spirit per bushel of grain, while his competitors were extracting far more. Pepper's distillery was equipped not with copper pots but with a column still, which was relatively innovative at the time. This probably helped Crow achieve accuracy and consistency.

Enduring namesake: Old Pepper continued to sell whiskey bearing Crow's name, even after he left the distillery

THE SOUR MASH PROCESS
Optimum fermentation occurs when pH levels are prevented from becoming too high, which could lead to undesirable bacterial growth. Many US distillers control pH levels in their new mash by adding an amount of acidic 'spent' mash, sometimes known as 'backset,' left over at the end of the distillation process and still containing live yeast.
Not only does the introduction of this 'sour' mash ensure balanced pH levels, but it also promotes consistency of character from batch to batch. The term 'sour' is used as the process is analogous to that of baking sourdough bread, using a starter or 'pre-ferment,' sometimes referred to as 'mother dough.'
The name 'Old Crow' was applied to the whiskey Crow distilled alongside the Old Oscar Pepper brand, in recognition of the Scotsman's talents. After James Crow left the Peppers to work a couple of miles away at the Johnson distillery, his successors continued to distil 'Crow' Bourbon as he had taught them.
According to Sam K. Cecil in Bourbon – the Evolution of Kentucky Whisky, 'In 1860 Oscar Pepper built another distillery a few miles down Glenn's Creek at Millville called Old Crow RD No. 106. Here he produced the Old Crow brand in deference to their old distiller.'
However, in his The Social History of Bourbon, Gerald Carson writes: 'After Dr Crow died in 1856, the firm of Gaines, Berry and Company, later WA Gaines & Co, decided to keep the name alive and to make bourbon by old man Crow's method.' It is recorded that in 1868, WA Gaines & Co. purchased the Crow distillery from the estate of Oscar Pepper.

Glory days: The Old Crow distillery closed in 1987 after being sold to Beam Suntory

The Old Crow brand went on to become the country's best-selling Bourbon, and enjoyed the patronage of some notable Americans, including Presidents Andrew Jackson and Ulysses S. Grant, Confederate General Jubal Early, and Kentucky statesman Henry Clay, who even featured in Old Crow advertisements.
Writer Mark Twain was another fan, and after his visit to the distillery during the 1880s, Old Crow used the fact extensively in advertising material. Fellow writers Walt Whitman and Jack London were also partial to the whiskey, as was the 'gonzo' journalist and author of Fear and Loathing in Las Vegas, Hunter S. Thompson.
After enjoying such high-profile patronage, Old Crow and its distillery ultimately came into the hands of what is now Beam Suntory Inc. during 1987, and the distillery was closed immediately. Today, production of Old Crow takes place at Beam Suntory's Clermont distillery, and the whiskey – with a much-diminished recipe and ageing regime – has slipped from its former glory days to become something of a bargain basement bottle. All in all, a sad decline for a whiskey once enjoyed by presidents and poets, celebrating a man who richly deserves recognition as one of the founding fathers of modern Bourbon.