Fledgling whiskey festival Bourbon & Beyond was cancelled this weekend (22-23 September) after the first day, as heavy rainfall forced city officials to step in amid safety fears.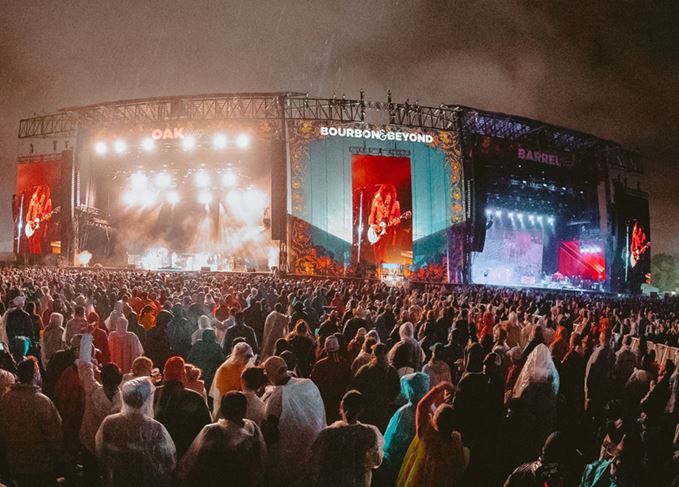 Louisville's Champions Park was declared unsafe as 'persistent rain made it impossible to adequately prepare the grounds to hold a second consecutive festival day'.
Acts left unable to play on Sunday included Sting and former Led Zeppelin frontman Robert Plant, although artists such as Lenny Kravitz, John Mayer and Sheryl Crow braved the rain to perform on Saturday night.
Festival organisers have since offered full refunds for all attendees who purchased Sunday day tickets, and 50% refunds to weekend ticket holders.
The washout comes as a blow to the burgeoning whiskey festival, which is only in its second year.
Danny Hayes, CEO of festival producer Danny Wimmer Presents, said in a statement: 'Our team worked so hard to bring an unprecedented festival experience to Louisville.
'While it is disappointing to have to cancel day two, we think the 25,000 fans who braved the weather got a real feeling for where this festival is headed.'
Bourbon masterclasses, cooking demonstrations and gourmet food stands were also on the billing for both days, leaving some Sunday exhibitors out of pocket.
Bedraggled festival-goers facing difficulty leaving the site were assisted by staff and fellow attendees alike, while some local restaurants offered deals to attract the festival's displaced population.

Mud 'n' malt: Despite the weather, festival-goers soldier on (Photo: thealexmanne via Instagram)

Champions Park was also due to host music festival Louder than Life next weekend, which has been cancelled due to the park's continued waterlogged state.
Bourbon & Beyond, which launched in 2017, is the self-proclaimed 'world's largest Bourbon festival' and bills itself as 'a perfect blend of Bourbon, food and music'.
As well as live music, other attractions included vintage Bourbon shop The Hunter's Club, bluegrass acts performing at the festival's Big Bourbon Bar and a selection of whiskeys such as Evan Williams and Four Roses, curated by whiskey writer Fred Minnick.