Compass Box has introduced new blended malt Tobias & The Angel, as a follow-up to its ground breaking Eleuthera expression featuring the whiskies of Clynelish and Caol Ila.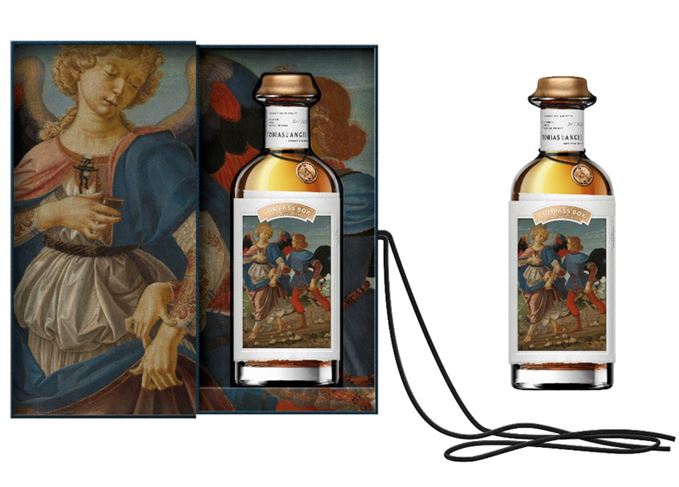 Tobias & The Angel is a no-age-statement blend of 'old and special' single malt whiskies from Clynelish in the Scottish Highlands and Caol Ila on Islay.
The two single malts first appeared side by side in one of Compass Box's first expressions, Eleuthera, which was launched in 2002 as part of a new wave of Scotch blended malts.
Compass Box whisky maker John Glaser described the release as a 'culmination of almost two decades of whisky making'.
He said: 'For nearly 20 years, since we created our malt blend called Eleuthera in 2002, we have held a special reverence for the two distilleries used in Tobias & The Angel.
'That's when I first discovered how perfectly these single malts complement each other.
'When we were recently offered extremely old and special parcels of whiskies from these two distilleries, I was compelled to put them together again. There is nothing else here, just this magical pairing of single malt whiskies.'
The expression is comprised of 50.9% Clynelish whisky matured for 24 years in American oak hogsheads, and 49.1% Caol Ila matured to a 'considerably older age' in the same kind of cask.
Tobias & The Angel is bottled at 47.6% abv, and described as an 'ethereal Scotch malt whisky, one with a hauntingly peaty character', with Glaser adding that 'the depth, complexity and length are that of a world class, extremely well-aged whisky. This is special stuff, indeed.'
Just 2,634 bottles have been created, which will be available to purchase from specialist retailers worldwide from 1 March for around £450/ US$500 a bottle.

'All Malt': Eleuthera was part of a new wave of blended malts launched in the early 2000s

The expression takes its name from the Italian Renaissance painting created by Andrea del Verrocchio around 1470-75, which is currently housed at the National Gallery in London.
The painting is inspired by an ancient book of scripture titled the Book of Tobit, in which Tobias is instructed by the archangel Raphael to extract the heart, liver and gall from a fish to cure his father's blindness.
It's likely several artists contributed to the painting, including a young Leonardo da Vinci.
Glaser said Compass Box's approach to creating new whiskies transcends the liquid in the bottle and encompasses 'multi-dimensional works'.
He said: 'For this whisky, the name of the biblical story Tobias & The Angel just felt right; it seemed to reflect the personality of the two whiskies in this recipe.'
This article contains affiliate links, which means we may earn a small commission if a reader clicks through and makes a purchase. All our journalism is independent and is in no way influenced by any advertiser or commercial initiative.