Port Ellen is making a return to shelves this spring in a new series of regular releases, starting with the oldest globally-available whisky from the silent distillery.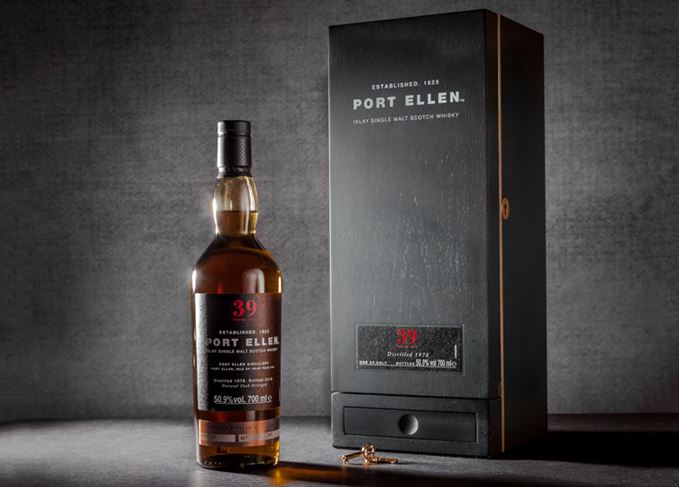 The Port Ellen Untold Stories Series will include regular bottlings of some of the last remaining stocks from the Islay distillery, which closed in 1983.
The first release, Port Ellen: Untold Stories The Spirit Safe, is a 39-year-old single malt matured in a selection of ex-Bourbon and ex-refill European oak Sherry casks and bottled at 50.9% abv.
It's described as having aromas of soft peat smoke and 'an abundance of fruit: sultanas, melon, lime with a hint of ginger ale', with a 'smooth texture and a sweet, salty then smoky' taste.
Just 1,500 bottles have been produced, which will be available at specialist retailers worldwide from early April for around £4,500 each.
Each bottle is presented in a wooden display case, which can only be opened with two unique keys.
Tom Jones, global prestige brand ambassador for brand owner Diageo, said: 'There is the regular smoke from the local peat, but this one is softer. As this release has been selected from a small number of casks, it is very different to other Port Ellen releases.
'Authentic in character, as it came from the casks and natural in colour, this liquid will no doubt inspire connoisseurs and collectors alike to own this once in a lifetime piece of history.'
Its launch marks the first new release from Port Ellen's stocks since it was removed from Diageo's annual Special Releases line-up in 2018.
Port Ellen distillery, which was founded in 1825, was closed in 1983 during a period of over-supply in the Scotch whisky industry.
Earlier this year distillery owner Diageo revealed plans to revive the site, with a view to return to whisky production at Port Ellen in 2021.
Georgie Crawford, master distiller at Port Ellen, added: 'There's an ethereal quality to Port Ellen and to the distillery itself. It is not easy to grasp what makes it so unique, but the people definitely matter.
'John Ramsay [Port Ellen's founder] was an early innovator in the whisky industry, and not many people know how important Port Ellen was in the early days of the whisky industry.
'Through this release we hope to give more insight into why it is so special a liquid, not just for its flavour, but for its history.'