Islay single malt Smokehead has collaborated with a world-renowned motorcycle expert to build a customised Ducati bike which will be displayed at the brand's events.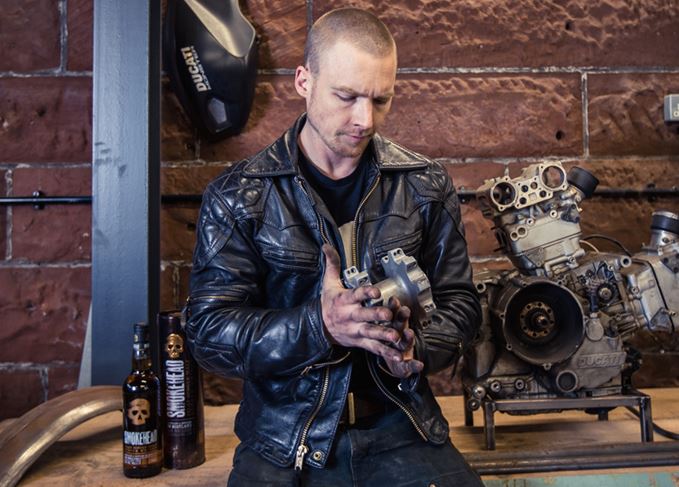 The Islay whisky brand has partnered with Tyler 'Ducati Whisperer' Lunceford, a former technician for the motorbike manufacturer, to create 'The Smoker' bike.
Said to be inspired by vintage racing motorcycles, The Smoker will be a 'great opportunity to make something really special,' says Lunceford.
The project forms Chapter Two of the 'Smokehead Refinery' series, which showcases collaborations between Smokehead and craftspeople worldwide.
Chapter Two will follow The Smoker's creation through a series of videos available to watch on Smokehead's website until the project finishes in September 2019.
Commenting on the partnership, Lunceford said: 'I love the idea of this brand supporting craftsmen and women, and it's even better as I'm a huge Smokehead whisky fan.
'I'm literally building my dream bike; it will be something that's never been seen before, something so bold, that even motorbike buffs will be blown away. It won't be easy, but it's a great opportunity to make something really special.'
Lunceford worked in Brooklyn, New York, creating motorbikes for high-profile rock stars before moving to Leith in Edinburgh and opening the North Motorcycle workshop.
Speaking on the collaboration, Smokehead brand director Iain Weir said: 'We're proud to be working with Tyler. His all-round attitude personifies Smokehead – bold, daring and independent.
'Just like Smokehead, motorbikes are not for everyone, but that's okay, and that's why this partnership works so well.'
The first chapter of the Smokehead Refinery series was launched in 2018, when Ian Macleod Distillers teamed up with event planner Dram & Smoke to organise 'Smokehead Feasts' across the UK.