Highland single malt Dalmore has teased the release of three new permanent whiskies into travel retail, each featuring between three and five cask finishes.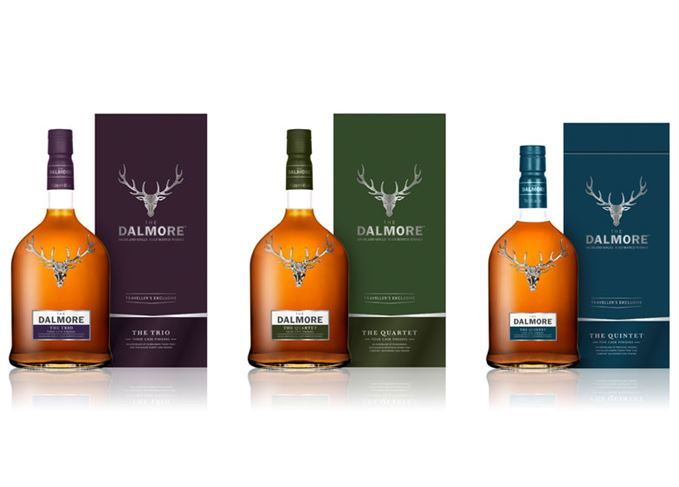 The three no-age-statement Dalmore whiskies – The Trio, The Quartet and The Quintet – are said to have been inspired by the distillery's King Alexander III expression, which is matured in six different cask types.
Dalmore The Trio has been matured in three different types of cask: first-fill ex-Bourbon, 10-year-old tawny Port and 30-year-old matuselum Sherry.
It will be available in one-litre bottles for around £69.99/ €78.99/ US$94.99.
Dalmore The Quartet, which is described as 'refined and fragrant' with a 'rich flavour profile of red grapes and juicy raisins', has been matured in four cask types: first-fill ex-Bourbon, 30-year-old matusalem Sherry, 30-year-old apostoles Sherry and Bordeaux Cabernet Sauvignon wine casks.
It will be available for around £84.99/ €95.99/US$109.99 for a one-litre bottle.
Lastly, Dalmore The Quintet is said to have flavours of 'exotic fruits drenched in maple syrup', owing to its maturation in ex-moscatel, malmsey madeira, 30-year-old matusalem Sherry, 10-year-old Port and Bordeaux Cabernet Sauvignon casks.
The expression will be available in 70cl bottles for around £99.99/€112.99/ US$129.99.
The new range, which won't appear in travel retail until July 2020, is said to showcase the distillery's 'unbroken vision to pioneering exquisite cask curation'.
Dalmore's King Alexander III is already available to purchase in travel retail as well as domestic shops globally.