Speyside's Kininvie distillery has released three new 'experimental' whiskies from its new innovation arm Kininvie Works, including a rye whisky, triple distilled malt and single-distillery blended Scotch.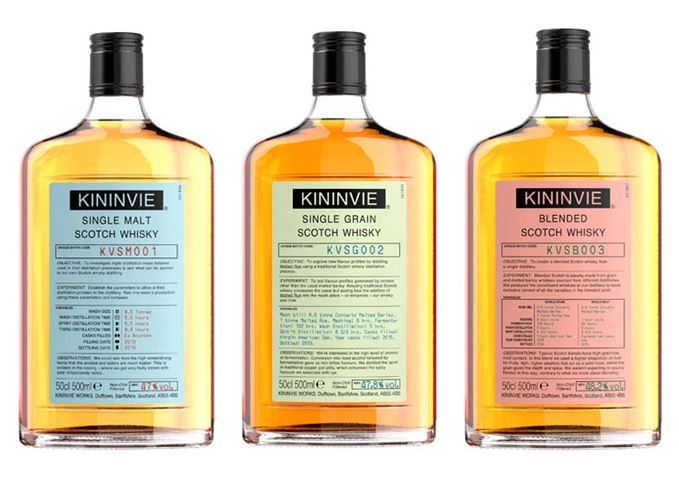 Kininvie Works' three whiskies, code-named KVSM001, KVSG002 and KVSB003, are the result of three different trials run by the William Grant & Sons-owned distillery.
Each code refers to the distillery (KV), spirit type (SM, SG, SB) and batch number (001).
KVSM001 is a triple-distilled single malt, the first of its kind released by Kininvie, which usually produces a double-distilled spirit.
The distillery, which is situated on the same property as Balvenie, ran a balanced triple distillation regime for just one week in 2013, maturing the spirit in ex-Bourbon casks for five years.
The resulting spirit, bottled at 47% abv, is described as having 'very fruity esters with pear drops/candy notes'.
KVSG002 is technically a single grain Scotch whisky distilled in copper pot stills using a combination of malted barley and malted rye.
Distillers used a mash containing 11% malted rye, maturing the resulting spirit in virgin American oak casks for three years.
The final product, which is bottled at 47.8% abv, is said to have 'a distinguished toffee flavour along with the classic spiciness associated with rye'.

Test bed: Kininvie is situated on the same property as Balvenie distillery

KVSB003 is a blend of double distilled malt whisky, and the Kininvie single grain malted rye and barley mash.
All components of KVSB003 have been produced on-site.
The resulting whisky, which has been matured in a combination of virgin American oak and European oak casks, contains a 'high proportion' of malt to grain, with the rye element comprising just 5.5%.
The distillery claimed that while 'typical Scotch blends have high grain/low malt content… in this blend we used a high proportion of malt for fruity, light higher alcohols that act as a solid base, whilst the grain gives the depth and spice. We weren't expecting to source flavour in this way, contrary to what we know about blending.'
The variables of each trial, including grist weight, distillation times, casks used and filling and bottling dates feature on each label.
The three whiskies are available to purchase for £35 for 50cl bottles from Amazon in the UK and France.
They are accompanied by a white paper titled 'The Influence of the Continuous Rousing of Spirit on the Characteristics of New Make Whisky Spirit,' which details research into the effects of aerating spirit before it is filled into cask.
The paper can be downloaded from kininvie.com, where additional in-depth information regarding each experiment can also be found.
The launch of Kininvie Works marks a departure from the single malt brand's focus on luxury whisky, which in recent years has included the release of the distillery's 'first drops', a series of 25-year-old single casks sold for around £400 per 35cl bottle.