Ian Macleod Distillers Profile
Ian Macleod Distillers is based at Broxburn, West Lothian, and owns Glengoyne distillery in Stirlingshire and Tamdhu distillery at Knockando on Speyside. Its principal blended brands are Isle of Skye, Smokehead and King Robert, though a range of independent bottlings are also undertaken under the 'As We Get it' Chieftain's and Dun Bheagan banners. As the world's 10th largest Scotch whisky company, Macleod's produce and sell over 15 million bottles of spirits every year.
The firm is a major supplier to the 'buyers' own brand' market and has provided own-label spirits to some of Europe's largest supermarket groups for over 40 years. Macleod's owns 50% of Broxburn Bottlers, with the other 50% being held by J&G Grant of Glenfarclas. The chairman of Ian Macleod is founder Peter Russell, whose son Leonard serves as managing director.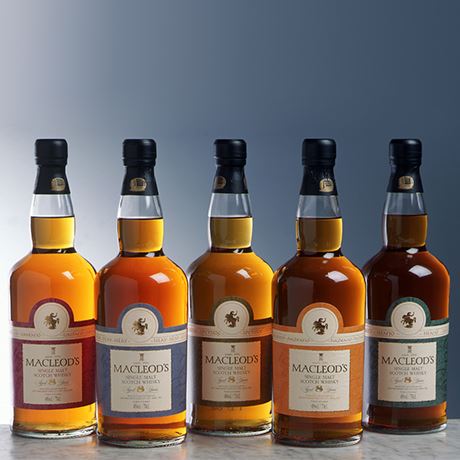 Ian Macleod Distillers History
Peter Russell's father Leonard started out in business as a whisky broker in 1936, expanding into blending and exporting. Peter joined the firm in 1956, and the name Ian Macleod & Co and its Isle of Skye blended Scotch whisky brand was acquired by what had become Peter J Russell & Co in 1963. Ian Macleod & Co had been incorporated in 1933. The unspecified Islay single malt Smokehead, with a singularly contemporary image, was introduced in 2006.
The company achieved a long-held ambition of becoming a distiller when it purchased Glengoyne from The Edrington Group for £7.2 million in 2003. A second distillery, Tamdhu, was acquired from Edrington eight years later, and reopened in 2012 having been mothballed since 2009.
In September 2016 the company bought whisky blender and gin distiller Spencerfield Spirit Company for an undisclosed sum, adding the Pig's Nose, Feathery and Sheep Dip blended Scotch whiskies, and Edinburgh Gin brand to its portfolio.
Associated companies
Contact
Address

Ian Macleod Distillers Limited




Russell House


Dunnet Way


Broxburn




EH52 5BU




United Kingdom

Phone

+44 1506 852205