The Dublin Liberties has released three new cask-finished single malts, just one week after opening its new €10 million distillery.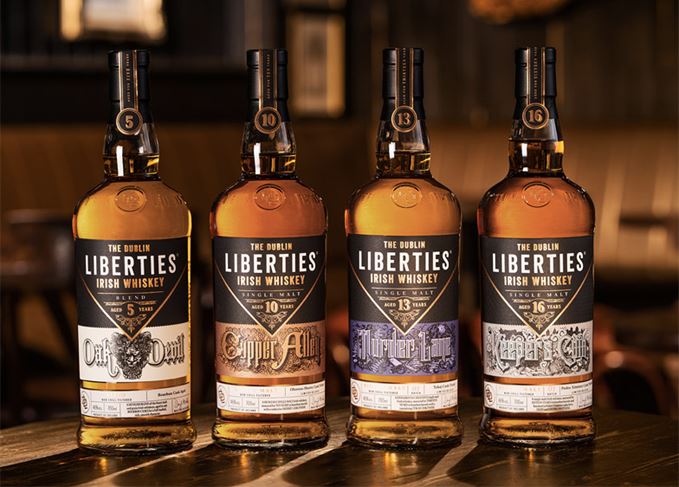 The expressions – Murder Lane, Keeper's Coin and Liberties King of Hell – are said to each represent a legendary 17th or 18th century story from the distillery's home in the Liberties district.
The new site, which is now producing a triple-distilled Irish single malt, opened its doors to visitors on 25 February, offering daily tours and tastings.
The three new releases are all triple-distilled, and created using whiskey sourced from an unnamed Irish distillery.
The oldest of the three, 27-year-old King of Hell, has been bottled at 46% abv after maturing in first-fill Bourbon casks and being finished in Bordeaux premier cru casks.
A total of 50 individually-numbered bottles of the expression are available at €2,700 each, and will be presented in a presentation case alongside an authenticity card signed by The Dublin Liberties' master distiller Darryl McNally.
Keeper's Coin is a 16-year-old single malt aged in first-fill Bourbon casks and finished in Pedro Ximenez Sherry casks, before being bottled at 46% abv.
Described as 'a smooth, full-flavoured whiskey, with a rich honey sweetness to finish', each bottle of Keeper's Coin is priced at €340.
The youngest of the three expressions, Murder Lane is a 13-year-old single malt 'brimming with sweet aromas of marzipan, almonds and vanilla'.
After maturing in Bourbon casks and finishing in Hungarian Tokaj casks, the expression was bottled at 46% abv and is available at €160.
Commenting on the releases, McNally said: 'I see innovation in the super premium-plus segment as key to continuing the impressive growth Irish whiskey has seen in recent years, so with The Dublin Liberties, we're embracing an experimental approach with unique finishes for our aged malts unlike anything else on the market.
'We're incredibly proud of the new expressions we've created and we're confident that the new Dublin Liberties whiskies will become collectors' items in their own right.'
The three expressions are available in select outlets in Ireland and global travel retail now, and will be released to other markets worldwide later in 2019.
The new releases will be sold alongside Dublin Liberties' existing expressions, Copper Alley 10-year-old and Oak Devil 5-year-old, at its distillery and whiskey experience centre.