A €10 million Irish whiskey distillery and visitor experience has opened today (20 February) in Dublin's Liberties district.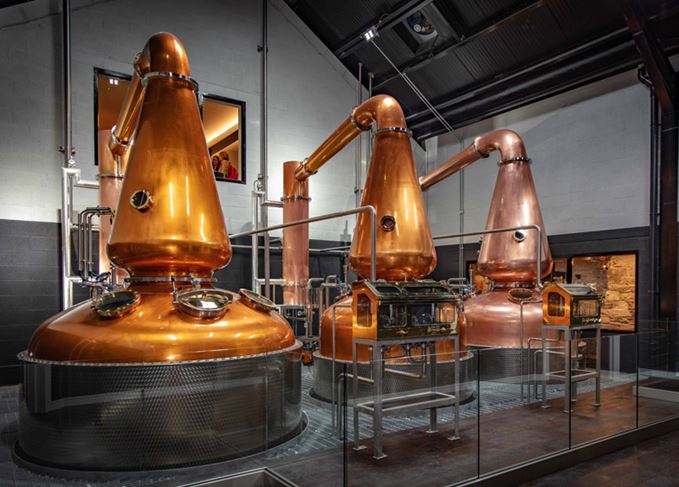 The Dublin Liberties distillery is now the third Irish whiskey distillery, and the fourth whiskey visitor experience, operating in Ireland's capital city.
The visitor centre, which will open to the public on 25 February and is expected to attract 80,000 visitors annually, features a cocktail bar and offers daily tours giving an 'up-close view of modern Irish whiskey-making'.
Dublin Liberties is owned and operated by Quintessential Brands, an independent spirits group producing a range of whiskey, gin and cream liqueurs.
The distillery, which is housed in a renovated 400-year-old building, will be the home of Quintessential's Dubliner and Dublin Liberties Irish whiskeys.
With three copper pot stills, the distillery will be set up to produce up to 700,000 litres of single malt spirit annually.
Darryl McNally, master distiller at Dublin Liberties distillery, said: 'Making whiskey is my passion, my lifeblood, and to be doing it in the heart of Dublin's historic distilling district is nothing short of a dream come true for me.
'I believe the future for Irish whiskey is in innovation and pushing the boundaries – and that's what I'll be working with the team here to deliver – the best Irish whiskey you could have the luck of getting on your lips.
'We're inspired by the past, but not bound by it, and can't wait to show the world just how diverse Irish whiskey can be.'
Simon Coveney, Irish minister for foreign affairs and trade, officially opened the distillery and commenced spirit production.
He said: 'Irish whiskey is one of the fastest growing spirits in global markets and one of the leading lights of our food and drink export industry.'
Global sales of Irish whiskey reached 10.5 million cases in 2018 – the highest since before Prohibition in the 1920s, while 22 whiskey distilleries are now operating on the island of Ireland.
Several more new Irish whiskey distilleries are expected to begin distilling in the coming months.
William Lavelle, head of the Irish Whiskey Association (IWA), said: 'The Irish whiskey industry is growing, and it is particularly special to see Liberties play such a central role in its revival. The area has a long and proud heritage in whiskey production.
'Last year we saw 923,000 tourists visit Irish whiskey distillery visitor centres across the country. We expect this number to grow again in 2019.
'The new Dublin Liberties distillery will play a key role in driving this growth and educating both Irish and overseas visitors on the legendary whiskey heritage of the Liberties and Dublin 8.'
Teeling became the first new distillery to open in Dublin in over 125 years when it fired up its stills in 2015. It was joined by Pearse Lyons distillery, situated within St James Church, two years later.
Jameson also operates a visitor centre, which is one of the world's leading whisky attractions, at its former Bow Street distillery.