Donegal's first whiskey distillery for almost 180 years has been given the green light by developers, with distilling expected to commence next year.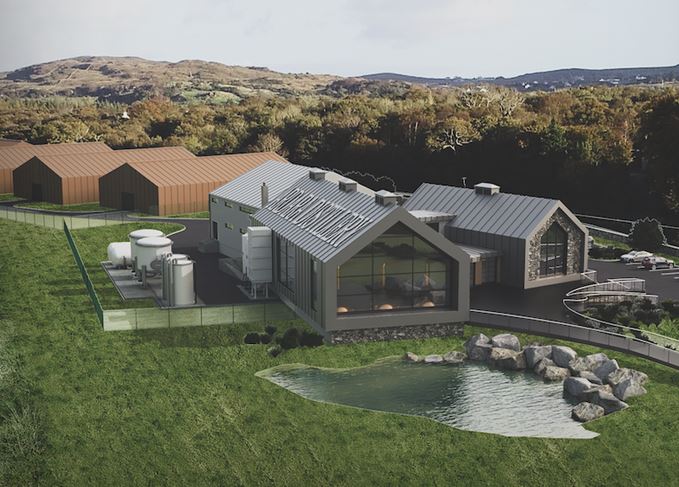 Sliabh Liag Distillers, producers of An Dúlamán Irish Maritime Gin and The Legendary Silkie Irish Whiskey will commence building work on the new €6 million Ardara distillery later this year.
Situated at the Show Field in Ardara, the distillery will be able to produce up to 400,000 litres of alcohol each year.
The distillery will primarily produce 'authentic 19th century styles' of heavily-peated, triple-distilled single malt and pot still whiskeys.
It will also produce gin, with the company's An Dúlamán gin still moved from its existing location in Carrick to the new building.
James Doherty, managing director of Sliabh Liag Distillers told Scotchwhisky.com in an earlier interview that he hoped for a first distillation date of Christmas Day 2020.
The bulding itself has been designed by Corner Stone Architecture with a 'mix of contemporary and traditional finishes' to 'complement the village of Ardara'.

Peated whiskey: Ardara will produce 'authentic 19th century styles' of Irish whiskey

Doherty said: 'Our aim is to create an opportunity for visitors to park in the village, walk along the Owentocker river, across a new footbridge and into the Show Field.
'It is important to us that local businesses benefit from the footfall, and if we can get visitors walking in the village, increasing their dwell time, then so much the better for the entire community.'
The distillery will feature a visitor experience, including a tasting bar and shop, although no café or restaurant is planned to encourage visitors to 'make use of the village's many offerings'.
'Enhancing Ardara's offering to its community and visitors has been a major consideration throughout the design process,' Doherty added.
'We intend to conserve the portion of the land nearest to the village as an open green space, with walk ways and ponds providing a beautifully landscaped area to be enjoyed by everybody.'