Diageo has marked the start of Scottish Apprenticeship Week (4-8 March) with the recruitment of the UK's first two female coopering apprentices.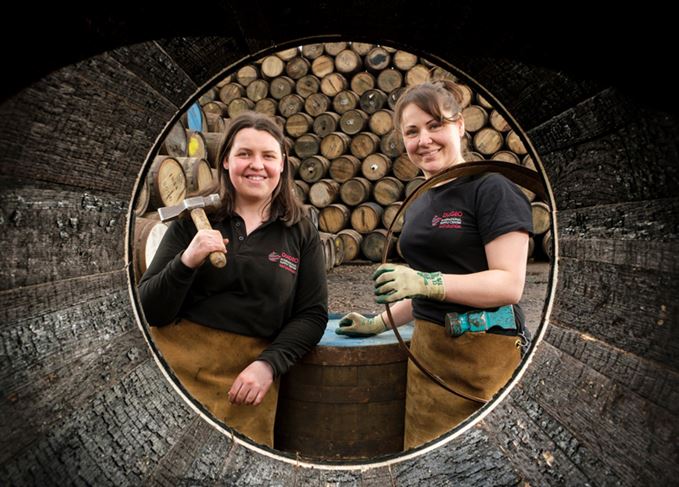 Angela Cochrane and Kirsty Olychick have joined a team of 16 apprentices at Scotch distiller and blender Diageo's Cambus cooperage in Clackmannanshire, Scotland.
Diageo stated the recruitment is 'breaking down gender barriers and blazing a pioneering trail in the once male-dominated trade'.
The apprenticeship is a four-year course that provides theoretical and hands-on experience in the tradition of building casks.
Angela Cochrane, a former psychiatric nurse, gained a place on the apprenticeship programme after first learning about it through a Facebook advertisement.
She said: 'I researched a bit about the trade online and thought it sounded like a really interesting career option, so I knew I had to go for it.
'It's a lot more complex than I thought it would be and I'm knackered when I get in at night but everything from handling the barrels to swinging the hammer is already starting to feel a lot more natural.'
Kirsty Olychick left her home in Canada to join the cooperage apprenticeship.
'I've always been inspired by the Scotch industry, so it is something I've always wanted to be involved in, but living in Canada I hadn't ever been exposed to the coopering craft,' she stated.
'I like the fact that you learn the skill by hand – you get the satisfaction of seeing the job done rather than reading about it in a book.
'It's such an exciting prospect to think that I'll be contributing to the next generation of Scotch. You shouldn't let anything hold you back.'

New intake: Cochrane and Olychick are two of 16 apprentices at Cambus cooperage

With Cochrane and Olychick starting their apprenticeships, Diageo is celebrating having women employed in every section of its business in Scotland.
In November 2017 the company appointed 18-year-old Rebecca Weir as its first female apprentice at Abecrombie Coppersmiths.
Director of Diageo's International Supply Centre Ewan Andrew stated the recruitment reflected the company's efforts to enhance its inclusivity and diversity across its operations in Scotland.
'We're delighted to have recruited Angela and Kirsty and celebrate the landmark of having our first women in the coopering trade,' he said.
'But this is just the start of the journey – across every part of our business we want to go further and faster in making diversity and inclusion a reality.'
Diageo opened its £10million cooperage at Cambus in 2011.
The cooperage now produces more than 400,000 casks a year, which are used to mature spirit from Diageo's portfolio of malt and grain distilleries.