Highland distillery Tomatin has released the third expression in its Warehouse 6 Collection, a 43-year-old single malt.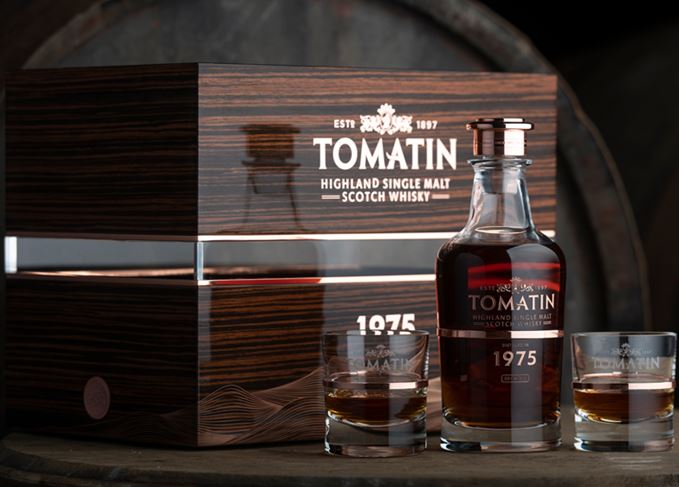 Distilled in 1975, the whisky has been matured in an ex-oloroso Sherry butt in the distillery's dunnage warehouse for more than four decades, before being bottled at 46.5% abv.
Tomatin distillery manager Graham Eunson described the third Warehouse 6 release as containing 'a perfect harmony of tropical and dried fruits, dark chocolate and warm spicy notes' with a 'long and elegant finish'.
A total of 300 bottles have been created, and will be available at specialist retailers worldwide for £2,400 each.
Managing director of Tomatin, Stephen Bremner, said: 'These limited edition expressions from the Warehouse 6 Collection enjoy the perfect atmosphere during maturation, providing the flawless environment for exquisite whisky to come to life in all its glory.'
The whisky comes bottled in a Glencairn crystal decanter, which is presented alongside a set of glasses and a solid copper stopper inside a case featuring an opening mechanism with rose gold metal buttons.
A numbered certificate detailing the story of the 1975 vintage is also included, while a material bag protects the bottling during transit and delivery.
The expression follows the recent launch of Tomatin's oldest whisky, a 50-year-old single malt released in December 2018 for £10,000 a bottle.
The distillery's Warehouse 6 Collection launched in July 2016 with a 44-year-old 1971 vintage.
Tomatin 1972, which was aged for 42 years in an ex-Sherry hogshead, was released in 2017 as the second expression in the series.