Highland-based Tomatin distillery will launch just 252 bottles of a 44-year-old single malt Scotch whisky, the first in its new Warehouse 6 Collection.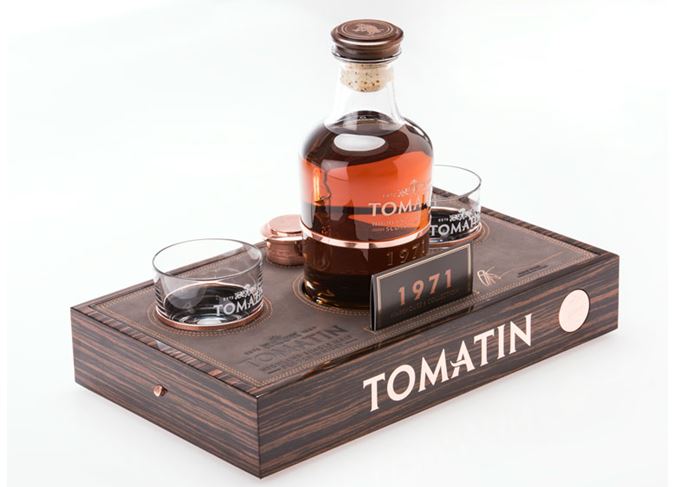 Distilled on 7 August 1971, the whisky was left to mature in Spanish oloroso Sherry casks and bottled at a cask strength of 45.8% abv on 16 May 2016.
The single malt will be available globally from specialist retailers for around £2,500, with bottle number one remaining at the distillery.
Tomatin 1971 is presented in a hand blown crystal decanter adorned with copper, and packaged within a varnished laminate wood box with plexiglass and rose gold metal. It comes complete with two crystal tumblers.
'We have spent decades perfecting this delicate spirit that reflects our dedication to producing whisky of exceptional quality,' said Stephen Bremner, sales director at Tomatin, which recently unveiled a redesign of its core range of single malts.
'The single malt evokes the soft house character of Tomatin with an intricate medley of rich tones and flavours which are truly unique.'
Tomatin intends to add a new bottling to its Warehouse 6 Collection every year, each of which will have been matured in one of the distillery's two on-site dunnage warehouses.
The series marks another step for the distillery into the ultra-premium single malt category, following the launch of Tomatin 36 Year Old last year, and is a reflection of the direction the brand is moving in, according to marketing manager Jennifer Masson.
'We have always had a story to tell but we didn't know how to tell it,' added Masson. 'We have been a bit of an underdog for many years, with people enjoying the brand but being one of the select few who know about Tomatin.
'But now Tomatin is a bit more mainstream; everything is coordinated together and enabling the brand to move to the next level.
'We are always looking to innovate and stand out in the market – we want to be more than just another single malt whisky.'
She continued to explain how Tomatin is very much a family distillery with a big focus on community, notwithstanding its Japanese ownership following its acquisition by Takara Shuzo Company in 1986.
'We never shy away from the fact we are owned by a Japanese company,' Masson said. 'At the end of the day, they got us out of a sticky situation and brought the distillery back to life.
'The fact they don't have much say in the day-to-day running of how we do things means we can be focused on our Tomatin Life campaign, profiling the people behind the distillery because they are the ones who allow us to have these wonderful whiskies.'