Highland distillery Tomatin has released two limited edition single malts – a 10-year-old malt finished in Caribbean rum casks and a 12-year-old finished in Amontillado Sherry butts.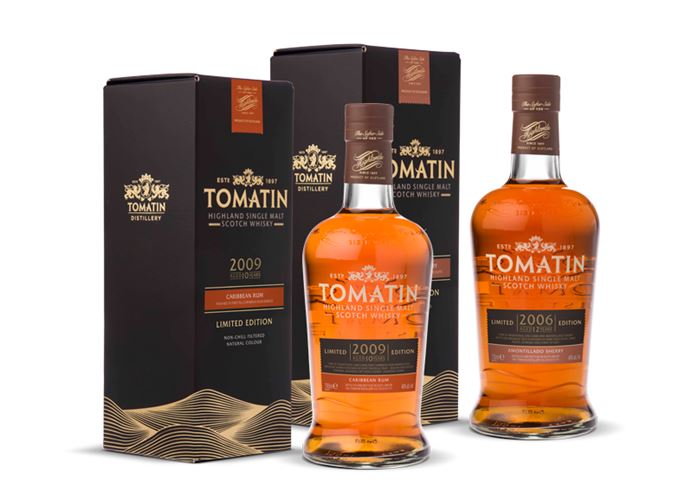 The Tomatin 2009 Caribbean Rum Finish has been matured in a combination of first-fill and refill casks for nine years, before being finished for one year in rum casks.
Bottled at 46% abv, the whisky is said to contain notes of 'soft tropical fruit, mocha and salted caramel' as a result of the rum cask finishing.
Priced at £49, only 7,200 bottles of the 2009 Caribbean Rum Finish have been produced.
The Tomatin 2006 Amontillado Sherry Finish also spent nine years maturing in first-fill and refill casks, before a three-year secondary maturation period in the ex-Sherry casks.
Also bottled at 46% abv, the whisky is said to carry rich flavours of 'dark chocolate, dried fruits, espresso and a hint of nut'.
Just 5,400 bottles of the whisky have been created, priced at £60.
Graham Eunson, distillery operations director at Tomatin, said: 'We are constantly striving to produce exceptional expressions that appeal to existing customers and a wider audience – the array of tropical notes, sweet mixed spices and rich Sherry infusions will hopefully entice a range of enthusiasts.'
Both limited editions are available worldwide from selected speciality retailers.
A previous nine-year-old Caribbean rum cask finish from the Highland distillery is said to have proved 'hugely popular' according to Tomatin.
The distillery also released the third expression in its Warehouse 6 Collection in March 2019, a 'heavily Sherried' 43-year-old single cask malt.