A series of social media posts promoting Bladnoch distillery's Pure Scot blended Scotch brand featured 'overly sexualised' images that were 'demeaning' to women, according to the Scotch Whisky Association (SWA).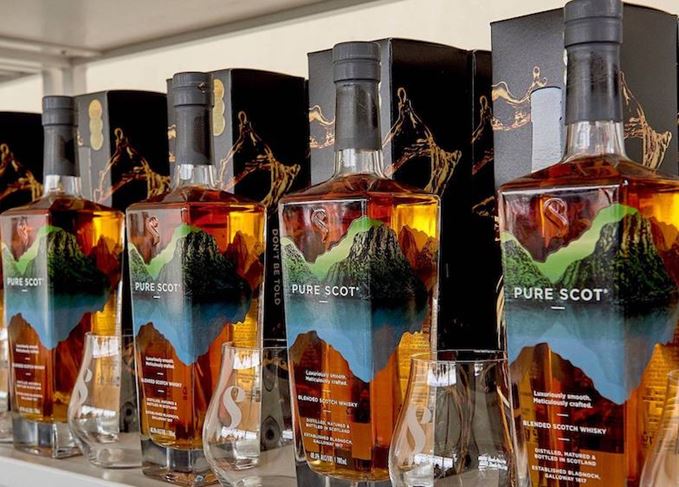 Following a complaint about the 'sexist … objectifying … and highly sexualised' posts on Pure Scot's Instagram account, the SWA found that they were in breach of its Code of Practice for the Responsible Marketing and Promotion of Scotch Whisky.
The complainant, Vinium Consultancy, a drinks- and cigar-related business run by Patsy Christie and Makram Salha, highlighted Pure Scot's 'repetitive habit of objectifying women through highly sexualised imagery, in some instances completely naked and without any relevance to the brand/industry'.
The complaint added: 'This outdated message helps perpetuate the belief that women are sexual aspirations, rather than valued customers and celebrated tradespeople.'
One post highlighted by the SWA's Independent Complaints Panel showed male and female models wearing swimwear on a yacht and 'appeared to depict the male model attempting to pull down the female model's bikini bottom in conjunction with text: "PureScot: Weekends, water, women, whisky"'.
A number of posts in Pure Scot's Don't be Told campaign 'overly sexualised and objectified' women by only showing the lower half of the female model's body, the panel added.
The SWA Code of Practice prescribes that marketing should not suggest that individuals can attain 'social, professional, educational or athletic success' as a result of drinking alcohol, and should not suggest that drinking Scotch 'enhances sexual capabilities, attractiveness, masculinity or femininity, nor suggest any association with sexual activity or sexual success'.
Bladnoch Distillery Ltd told the SWA that it 'wholeheartedly rejected' the suggestion that it had breached the code, but had removed the images from the company's Instagram feed as they were 'extremely old' and 'no longer speak to our positive Pure Scot brand message'.
Following a formal upholding of the complaint by the SWA Complaint Committee, the company appealed to the SWA's Independent Complaints Panel.
The panel rejected the appeal and upheld Vinium's complaint. It welcomed Bladnoch Distillery Ltd's 'proactive action' in removing the offending posts, but requested a meeting between the company and the SWA to 'help prevent any potential future breaches of the Code'.
Responding to the decision, a spokesperson for Bladnoch Distillery Ltd told Scotchwhisky.com: 'We wholeheartedly believe that our marketing is not in breach of the Scotch Whisky Association's Code of Practice and we are disappointed to hear of their ruling.
'Pure Scot is a challenger brand in the Scotch whisky category and we believe our marketing is appropriate for a brand which aims to set itself apart from the competition by daring to be different and showcase a youthful, active lifestyle.'
Pure Scot was launched in 2015 by Australian entrepreneur David Prior, shortly after he acquired the previously silent Bladnoch distillery in the Lowlands.