Taiwan's Kavalan distillery has opened its own warehouse-themed whisky bar in Taipei, where drams are served straight from the cask.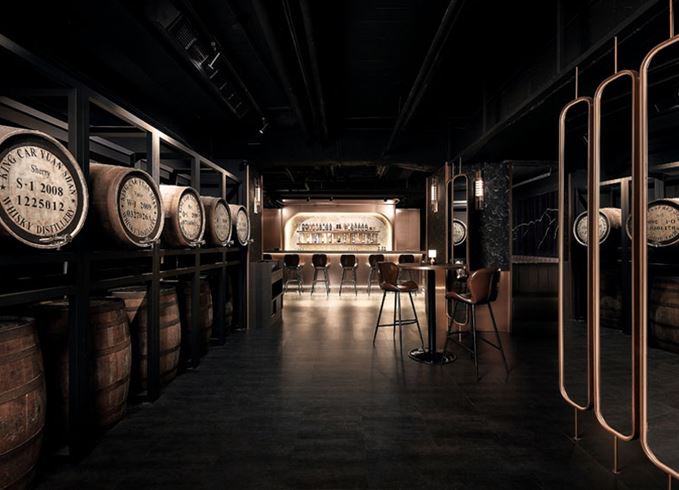 The Kavalan Whisky Bar, located in Taipei's Zhongshan District, serves the world's most complete range of Kavalan whiskies, including two limited 'X' whiskies released in 2018 to celebrate the distillery's 10th anniversary.
Designed to reflect the interior of a warehouse, the bar serves a range of cask strength whiskies directly from a selection of stacked casks into visitors' glasses.
Ian Chang, master blender for Kavalan, said: 'On the production side, cask strength means taking a sip straight from the barrel.
'Drinkers can do exactly that in this bar to experience the purity and quality of our whisky.
'They can choose which selected cask-strength whisky they want, walk up to the cask with their glasses, and start pouring.'

Cask strength: Guests are able to choose a whisky to pour straight from the cask

The bar is also designed to immerse guests in Kavalan's story, with 'air gusts' mimicking the Pacific breeze, and a backlit silhouette of the Snow Mountain range which is home to the distillery's water source.
A cocktail menu designed by 'Asian cocktail godfather' Aki Wang is also offered, while a food pairing menu is also expected to be introduced in the future.
King Car, which owns Kavalan, also operates two Bucksin Beerhouses in Taipei, as well as a Japanese-inspired Bucksin Yakiniku restaurant.
Kavalan distillery, situated in Yi-Lan, has claimed to be the world's most-visited distillery, attracting 1.23 million tourists in 2015.