A friendly and well-informed face behind the bar can work wonders in terms of selling whisky and opening up a new world of Scotch to the curious customer. But are the bars and pubs of the UK doing enough to promote one of this country's greatest products? Tom Bruce-Gardyne reports.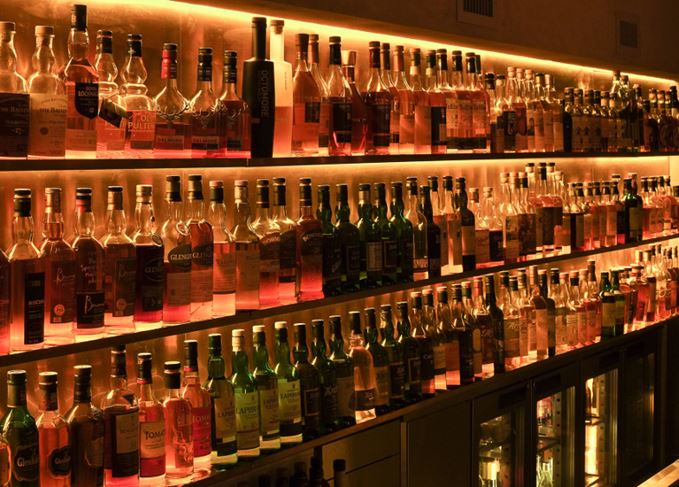 Buying a bottle of Scotch whisky on Britain's 'High Street' revolves around special offers. Prices are pumped up, only to be deflated at regular intervals to catch our eye as we trundle round the supermarket, such that at least four out of five bottles are sold at a discount. It is all about the money, and nothing but the money.
If that is a rather depressing scenario, the on-trade – in other words, bars, restaurants and hotels – should offer a welcome respite. It ought to be where the conversation moves on from price to talking about provenance, flavour and aroma. And it begins, as often as not, with a simple question: 'What d'you recommend?'
Whether the conversation progresses and leads to discovering some delicious new whisky or nugget of information depends on the person serving. No-one expects bar staff to have the nose of Richard Paterson (Whyte & Mackay's master blender) or to have read the complete works of Dave Broom and Charlie MacLean. They may be young and inexperienced, but a flash of interest and a few words of advice can work wonders.
So, in Scotch whisky's homeland, how do bar staff measure up? Fresh from Edinburgh's Christmas Market where 'not a single Hot Toddy involved whisky', an outraged Blair Bowman kicks off this month's debate.
The question: is there widespread ignorance of Scotch whisky in bars?

Yes: Blair Bowman, whisky consultant and author
'When I go into bars across Scotland and ask them to recommend a Scotch, I'd say that 99% of the time whoever's behind the bar freezes up and doesn't have a clue what to say.
'The selection of single malts, blends and world whiskies has grown ever more impressive, yet the staff are unable to make even the simplest recommendation. There's a disconnect between an expanding and diverse back bar and a level of knowledge that hasn't kept up thanks to the managers who are not training their staff in how to sell whisky.
'Often staff will simply point to the back bar or say: "Here's our whisky menu" which, being a list of names, isn't that helpful. Otherwise they'll say: "Oh, it's the manager who knows about whisky, and he's not in." Or, if he is, he'll be brought out of some cupboard where he's been doing the accounts.
'I feel that in any other region with its own speciality in food or drink, anyone working in hospitality would be able to tell you the basics. Here it's not happening. I've even been served a Jack Daniel's when I asked for a Scotch.
'Of course, these are big generalisations but unless you go into a specialist whisky bar or chance upon someone with a personal interest in whisky, it's real pot luck.
'There's also the issue of service. If you're buying a nice dram you don't want it in a glass warm from the dishwasher with no water jug in sight.
'But again it's about managers who can't be bothered. Their attitude seems to be: if someone can pour a pint, they've got the job, and it's a bonus if they can make a flat white – but, if that's all they think of their staff, that's all they'll get.
'Where there is staff training it's usually out-of-hours and unpaid, while the brand ambassadors focus on key accounts and talk of their brands rather than whisky in general.
'Meanwhile, consumers are becoming more savvy about what's genuine and what's just marketing. They don't really care whether a distillery opened in 1824 or 1994. They just want some useful snippet of information and an idea of what a particular whisky tastes like.
'The whole purpose of bars and restaurants is to give people experiences. If this is where whisky brands are built, there's a huge opportunity for everyone involved to raise their game.'


No: Arthur Motley, sales & purchasing director, Royal Mile Whiskies
'It could be better, but it is definitely improving. When I joined the industry working behind a bar as a 21-year-old, there were very few opportunities to learn about whisky or progress in the trade.
'Now, with a potential career at the end of it, as a barman, a brand rep or a brand ambassador, there is an incentive to get off your arse and study. That alone is bringing about change. But, as an industry, we need to get people to stick it long enough to learn about whisky, because you can't do it overnight.
'I also think there are many more types of places doing a good job with whisky, from specialist whisky pubs to good cocktail bars and even craft beer places. There are loads of bars in my town where I know a bartender who can give me great chat about malt.
'Of course it can feel depressing in the big hotel groups when it comes to whisky, but that's no great surprise. You will probably get terrible wine service and boring beers in such places where the staff tend to be even more transitory, and I don't see that changing.
'Essentially, I think knowledge is something people have to acquire for themselves, but in return the industry has to give opportunities to interested people.
'If you're young and hard-up, buying nips of whisky is expensive. But, judging by the events we've hosted for bartenders, I would say it's pretty vibrant out there because they're absolutely packed. And, on the auction site we launched recently, I was really surprised how many bartenders have been buying off it.
'Sometimes the "brand" approach to distilleries frustrates me, as a learner needs to try different single malts next to each other, but there is still great work being done to engage and reward a poorly-paid profession.
'The Glenfiddich experimental sessions with tents, food and decent bands brought in a lot of bartenders by bus from Glasgow and Edinburgh for a mini-Glastonbury at the distillery.
'Overall, I just think we shouldn't judge the level of whisky knowledge by the lowest common denominator, or by who's running the slowest. I feel the average has definitely gone up in the last decade by a huge amount, and that the best have got a whole lot better.'

In conclusion…
Everyone will have their own experience when it comes to ordering whisky in a bar, and this debate should probably have come with a huge spoiler alert about generalisations.
But where there is a dearth of knowledge behind the bar, you have to wonder why the managers are not helping and encouraging their staff to learn. To invest in an impressively diverse range of whiskies – and then neglect to have anyone capable of selling it – is perverse and certainly a missed opportunity.
In the past we may have been reticent about asking for suggestions, but that's changing. Independent whisky shops survive on their enthusiasm and ability to inform and make recommendations, and the same should be true of any good bar or restaurant – as long as the advice sounds genuine, and not like some marketing BS picked up from the brand ambassador.
While having a passion for whisky is not something that can be taught, those working in Scotch whisky could certainly do more to help nurture that interest in bar staff. Maybe companies are too predisposed to talk only of their brands, in which case whisky education is perhaps best done by others. Either way, it should be worth the investment.